A Closer Look at Sprouts Farmers Market's Business Strategies
Sprouts has been expanding its private label menu by introducing new and innovative products. As of 3Q15, it offered more than 1,700 private-label items.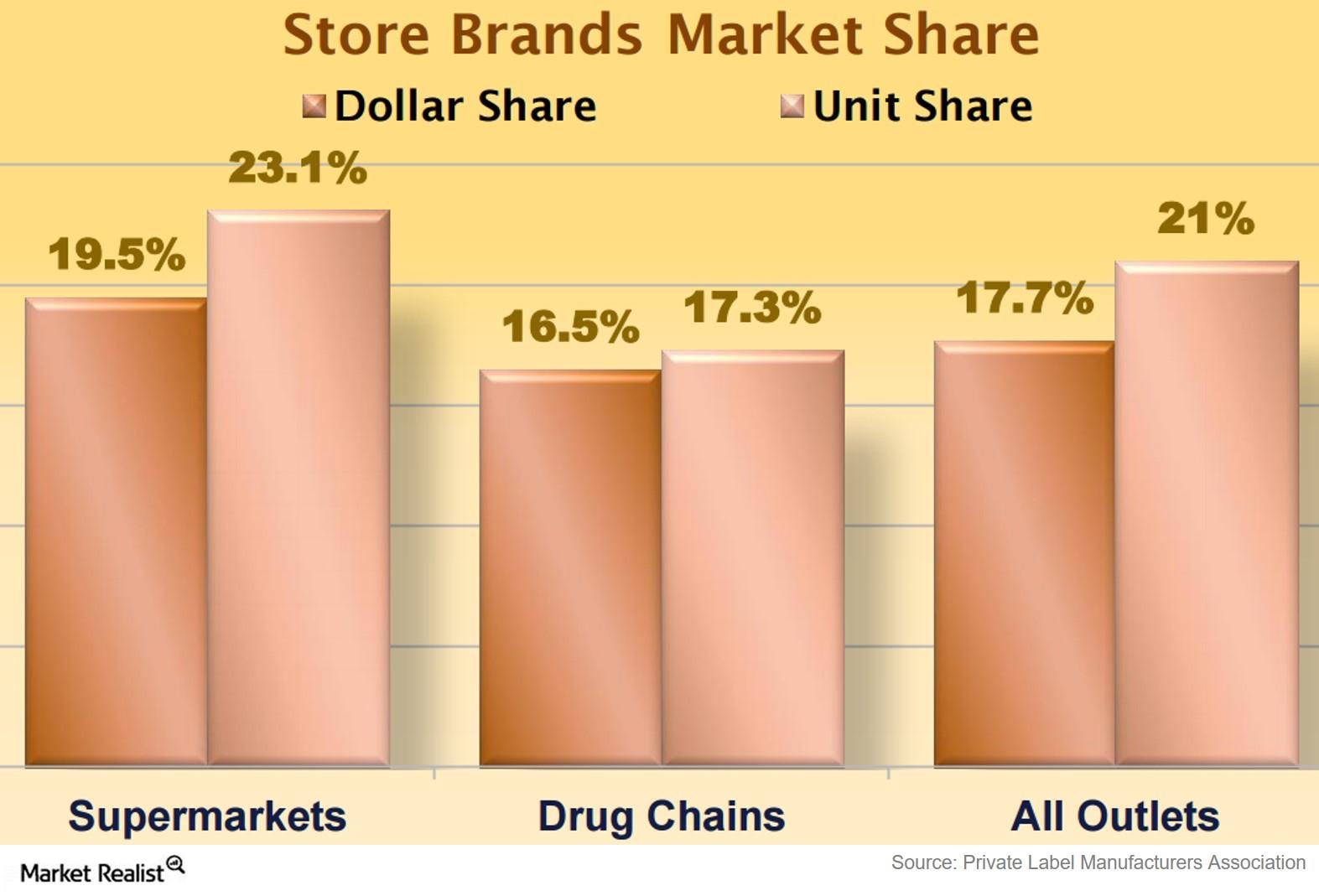 Private label strategy
In this part of our series, we'll look at Sprouts Farmers Market's (SFM) business strategies, focusing on Sprouts' private label strategies, pricing strategies, and marketing strategies.
Sprouts has a strong focus on developing its own exclusive brands. It has been expanding its private label offerings by introducing new and innovative products. As of 3Q15, the company had more than 1,700 private-label items on its menu. These brands are an important growth category for the company as well as a key to Sprouts' comps and sales growth.
Article continues below advertisement
Article continues below advertisement
Private labels in US supermarkets
Private label products are important revenue generators in the US supermarket industry. They accounted for approximately 20% of the total dollar sales of US supermarkets in 2014, according to the Private Label Manufacturers Association.
Looking at specific companies, we see that Kroger Company (KR) had a private brand penetration of 26% (of total store dollar sales) for the fiscal year ending January 31, 2015, while Whole Foods Market's (WFM), exclusive brands accounted for approximately 13% of its total retail sales. SuperValu's (SVU) private label products accounted for approximately 60% of corporate sales at Save-A-Lot stores in fiscal 2015, while its retail segment's private brand penetration stood at 21% in 2Q16 (ending October 2015).
Sprouts' pricing strategy
Sprouts Farmers Market follows a competitive pricing strategy and has positioned itself as a value player in the natural and organic food segment. The company markets its products with "Healthy Living for Less" as its tagline and offers heavy discounts on its products, typically keeping about 25% of its products on sale at any given time.
According to a Bloomberg survey conducted in 2014, Sprouts has been undercutting the product prices of Kroger and Wal-Mart by as much as 25% of Whole Foods Market (WFM) by 13% (on selected 148 brand-name items).
Article continues below advertisement
Marketing and advertisement strategies
Unlike Whole Foods Market, the premium natural and organic food retailer, which spends less on advertising and marketing, Sprouts follows an aggressive advertisement and marketing strategy. Weekly advertised specials, online coupons, and special promotions are an extensive part of its marketing strategy.
In its advertisement efforts, the company sends over 13 million advertisement circulars to its customers on a weekly basis. And Sprouts' solid top line numbers suggest that this strategy has been paying off.
ETFs with exposure to Sprouts and peers
Sprouts Farmers Market (SFM), Kroger (KR), SuperValu (SVU), and Whole Foods (WFM) are included in the holdings of the Fidelity MSCI Consumer Staples Index ETF (FSTA). Together, these companies make up approximately 2.6% of the fund's total holdings.
Continue to the next part for a look at Sprouts' approach to expansion.