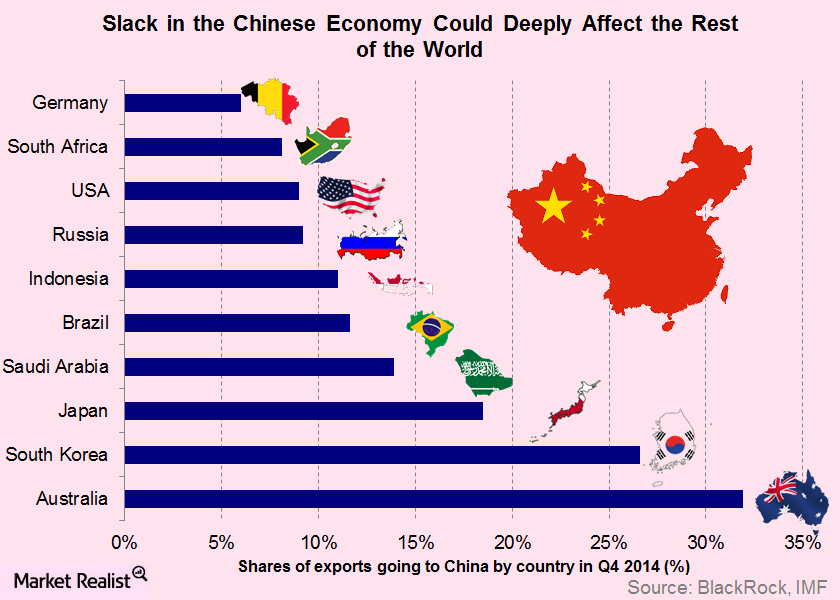 Why China Matters in the Long Run
<p>China matters in the long run—and not just for investors in the country&#8217;s equity markets. Slack in the Chinese economy could affect the global economy (FAM) in a big way.</p>
On a final note, the issue of how accurate output figures are has been a long-standing gripe. Chinese data can be opaque because of a perceived lack of openness on the part of Chinese officials, especially when it pertains to bad news. In reality, though, most analysts devise their own gauges to measure economic growth.
So we believe the economy is not crashing and the Chinese are not devaluing. Is this a call to go piling back into Chinese equities in particular and risk assets in general? Well, no. In our view, stocks are still overpriced and poor corporate governance demands caution. What about other risk assets? It depends on your risk appetite and whether you're committed to this market for the long term. The most important thing is to try to make as informed a decision as you possibly can.
China matters, and your view of China matters too.
Article continues below advertisement
Article continues below advertisement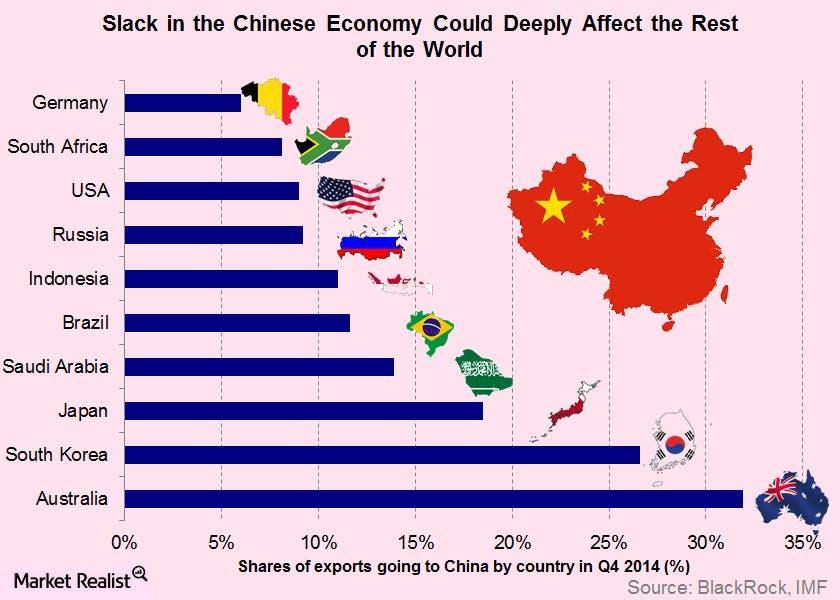 Market Realist – China matters in the long run—and not just for investors in the country's equity markets. Slack in the Chinese economy could affect the global economy (FAM) in a big way. The above graph shows the share of exports going into China from selected countries. Japan (JEQ), South Korea, and Australia (IAF) (EWA) have the most exposure to fluctuations in demand from China, with 18.5%, 26.6%, and 31.9%, of their exports, respectively, going to China.
Article continues below advertisement
But despite the recent slowdown, China (ASHR) continues to grow at ~7%, which is miles ahead of the developed world. The recent slowdown is only a transition to a new normal and is perfectly healthy. You can qualify a modest slowdown as teething problems for the economic powerhouse. Once the economic transition is complete, the economic growth numbers may not be as dazzling as they were in the last decade. But they should definitely be more robust—and more sustainable.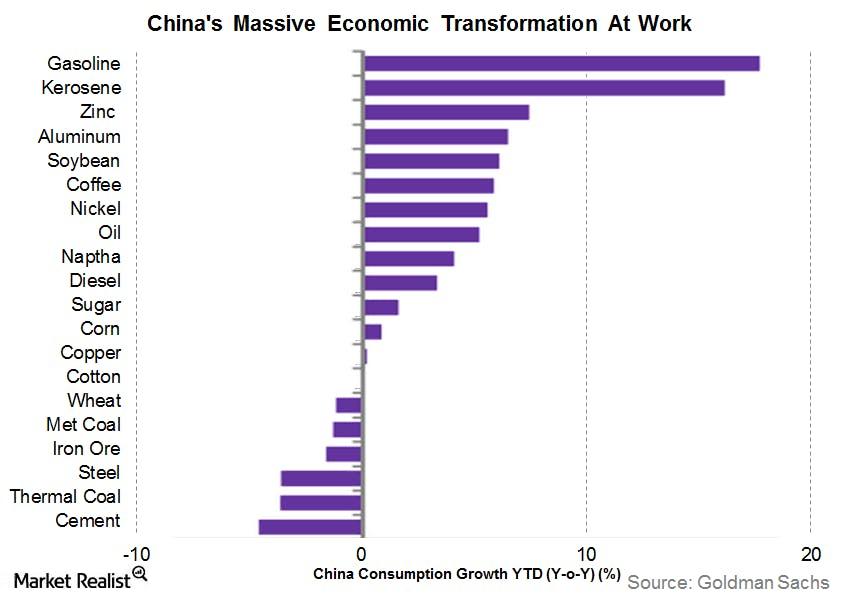 Article continues below advertisement
Article continues below advertisement
The above graph from Goldman Sachs shows the shift currently underway in China. Goldman Sachs has classified the commodities that China consumes into two sections: "capex" commodities, which are used for industrialization, and "opex" commodities, which are used for personal consumption. Goldman Sachs analysts observe that the year-to-date consumption growth in China for capex commodities like cement, coal, and steel is falling. On the other hand, opex commodity consumption—for things like coffee and gasoline—are undergoing a resurgence in consumption growth.
The shift from an investment-based economy to a consumption-based economy is currently underway. China's propensity to consume is unparalleled. The recent statistics from the sales during Golden Week support this view. According to reports from Bloomberg and Xinhua, from October 1 to October 7, Chinese citizens went on 750 million trips. According to the Ministry of Commerce, sales at restaurants and retailers climbed 11% from a year earlier to 1.08 trillion yuan during the week. More evidence of consumer strength came to light on China's Singles Day, November 11. The Alibaba Group (BABA) managed to rake in an enormous $14.3 billion in gross sales on the day, up 60% from last year's numbers.
China matters in the long run. Long-term investors can find opportunities in the area. But owing to the equity markets still showing signs of overvaluation, it could pay to be selective. Retail and consumer spending sectors could mean big wins in the long run. Read our series on Asia's Retail Revolution to learn more about how the retail boom is helping China and other Asian countries.