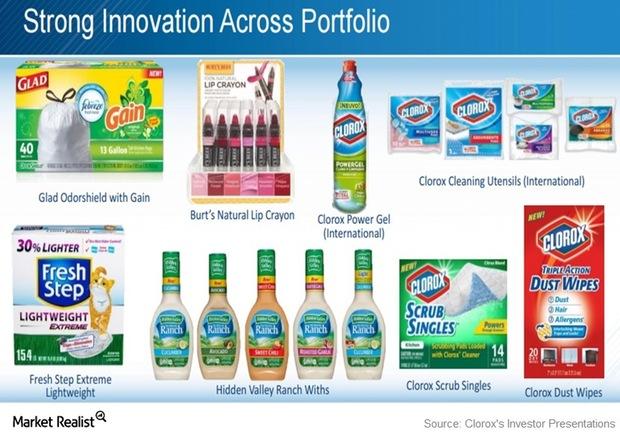 Weighing Clorox's Strengths and Opportunities
Large product portfolio
Clorox (CLX) has a large product portfolio with more than 60 brands, which is one of the biggest strengths of the company. The company's products hold a prominent position in their particular categories around the world. Clorox develops and markets dozens of popular regional, national, and international brands from Pine-Sol (bleach and cleaning products) to Brita (water filtration systems).
Article continues below advertisement
Strong R&D
Clorox (CLX) has a strong research and development (or R&D) team and devotes significant resources and attention to product development. The company incurred expenses of $0.1 billion in fiscal 2015 on research activities relating to the development of new products that are consumer-preferred. For example, the company launched Clorox Control Bleach Packs in order to help consumers wash and clean with added control without spilling or splashing.
Shareholder returns performance
Clorox has also been consistent in terms of shareholder performance. Clorox's total shareholder return over the 20 years ended September 30, 2015, came in at more than 969%. In comparison, the return for the S&P 500 Index came in at more than 378%. Clorox's return is more than 2x that of the index.
Article continues below advertisement
Geographical opportunities
Rising economic development and consumer incomes in emerging markets such as Asia and Latin America will help Clorox tap into opportunities to increase sales in developing markets. This would also provide geographical diversification.
Hispanic marketing
The spending power of the US Hispanic population has increased over the last couple of years. So understanding multicultural marketing techniques can help Clorox target the specific segments of the population as well as retain its overall market and brand.
Other companies such as Procter & Gamble (PG), Unilever (UL), and Colgate-Palmolive (CL) also focus on innovation and developing new products regionally through consumer insights.
Natural personal care growth
A growing number of natural personal care products provides an opportunity for Clorox to expand its Burt's Bees business. Acquisition of more such brands will help enhance the company's business.
Clorox (CLX) has exposure in the First Trust Consumer Staples AlphaDEX ETF (FXG) with 2.6%[1. updated as of November 16, 2015] of the total weight of the portfolio.