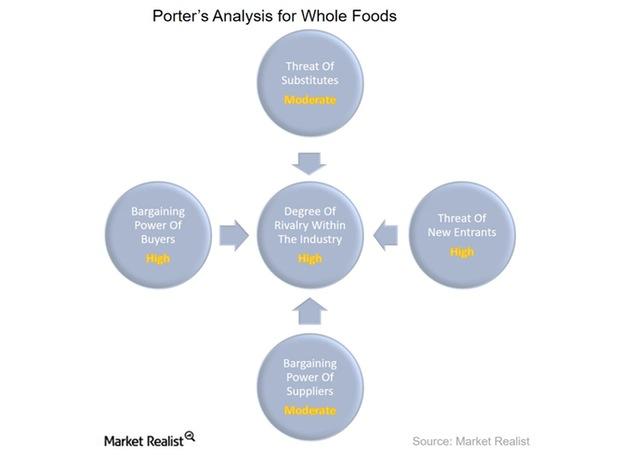 A Porter's Five Forces Analysis for Whole Foods after Fiscal 2015
Porter's Five Forces Model
Porter's Five Forces model is extensively used for assessing the nature of competition and attractiveness of an industry. The model suggests that there are five forces that determine the attractiveness and long-term profitability of an industry or a sector. These include:
the degree of rivalry within the industry
the threat of substitutes
the threat of new entrants
the bargaining power of buyers
the bargaining power of suppliers
Article continues below advertisement
Degree of rivalry within the industry
Competitive rivalry is extremely strong in the organic and natural food industry. More companies are entering into and expanding their presence in the organic and natural food business due to customer inclinations toward fresh and organic products. Mainstream supermarket chains such as Kroger Company (KR) and mass merchandisers like Costco Wholesale Corporation (COST) and Wal-Mart Stores (WMT) are now offering customers natural and organic foods at much more competitive prices.
Bargaining power of buyers and suppliers
Whole Foods' buyers are free to purchase products from other companies. In fact, there has been a significant shift of Whole Foods' consumers to other providers of organic and natural foods, which has impacted the company's top-line growth.
Whole Foods Market has many suppliers, including local, regional and national wholesalers and producers. However, United Natural Foods is its largest third-party supplier accounting for more than 30% of its total purchases. Although Whole Foods purchases from a large number of suppliers, its dependence on a single supplier for a huge part of purchases leaves less power in the hands of Whole Foods.
Article continues below advertisement
Threats of substitutes and new entrants
There are many substitutes, such as non-organic foods or products that are cheaper than organic options. However, as consumers shift toward healthier food options, the threat of shifting to non-organic substitutes might not be very high.
At the same time, there are not many barriers to entry into the organic grocery segment, as it does not require huge capital or expertise of operation. Even small retailers can compete with in this industry.