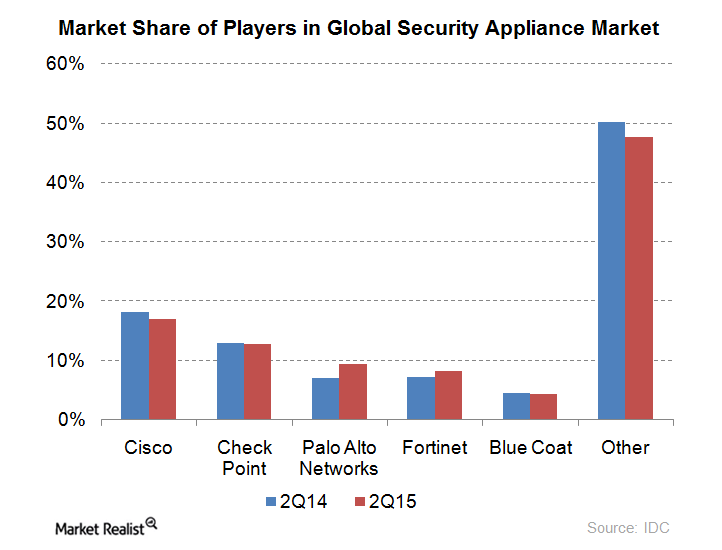 Why Palo Alto Networks' Security Appliance Market Share Could Rise
Cybersecurity space is all set to grow
In the previous part of this series, we discussed Palo Alto Networks' (PANW) fiscal 1Q16 results. Palo Alto Networks, which operates in the cyber security space, is growing fast. The industry is expected to grow from $77 billion in 2015 to $170 billion in 2020, according to research conducted by MarketsandMarkets. Moreover, it's expected to grow 121% globally in the next five years.
Article continues below advertisement
Palo Alto has outpaced market growth since its entry into the top five of the security appliance space
Though Palo Alto's market share in the global security appliance market is only 9.4%, as the above chart shows, it's the only player among the top five players that reported revenue growth as high as 51.5%, as IDC reported in 2Q15. The IDC report also stated that PANW, since entering the top five in the second half of 2013, has grown its revenues faster than the overall market. In 2Q15, it not only reported revenue growth of 51.5% on year-over-year but also gained 2.4% market share. In 2Q14, its market share stood at 7%.
Cisco (CSCO), though a leader in the overall security appliance market with a 17% market share, saw its market share decline from 18.2% in 2Q14 to 17.1% in 2Q15. CheckPoint Software (CHKP) also saw its market share slightly fall from 12.9% in 2Q14 to 12.8% in 2Q15.
You could consider investing in the iShares S&P North American Technology-Multimedia Networking Index Fund (IGN) to gain exposure to Palo Alto. IGN invests 10.36% of its holdings in Palo Alto Networks.