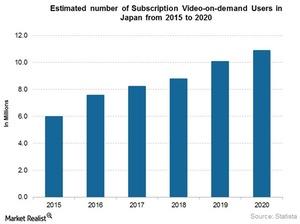 How Is Netflix Performing in Japan?
Launch in Japan
In the last quarter, Netflix (NFLX) launched in Japan (EWJ). It was the company's first entry into a major Asian market. Netflix considers Japan to be a brand-sensitive market. Once the company establishes its brand in Japan, it expects its connection with the Japanese audience to be long term.
During Netflix's 3Q15 earnings call, the company stated that Netflix's English-language content is being watched by roughly the same percentage of Japanese people as in Netflix's other international territories. This news is encouraging for Netflix, as it indicates the rising popularity of its English language original content such as House of Cards, which has a global audience appeal.
Netflix has priced its Japanese service at a price point close to its pricing in the United States. Netflix is offering subscription plans in Japan that range from 650 Japanese yen (or ~$5.40) pretax to 1,450 yen (or ~$12.02) pretax.
Consumer electronics companies in Japan such as Sony (SNE), Toshiba, and Panasonic had already started integrating a Netflix button on television sets sold in Japan in 2Q15.
Article continues below advertisement
According to a survey by Statista, and as the chart above indicates, the number of subscription video-on-demand (or SVOD) users is estimated to be ~11 million in Japan by the year 2020. Considering Netflix's entry in Japan, the rising popularity of online video could help the company immensely in the long term and could grab this subscriber base.
Original English language content versus local content
Before entering Japan, Netflix considered that original Japanese content would be extremely popular in Japan. To offer local content and hedge against the possibility of Netflix's English-language content being unpopular, the company entered into an agreement with Fuji Media Holdings to provide local content. In June 2015, it also reached an agreement with Japanese talent agency Yoshimoto Kogyo to produce original local content for Netflix.
Netflix learned from Hulu's initial failure in Japan. Hulu was expensive, at around 2,000 Japanese yen, or $20 per month, and didn't offer any local content. Early last year, Hulu's Japanese business was sold to Nippon Television Network. Hulu is an over-the-top (or OTT), ad-supported streaming service owned jointly by 21st Century Fox (FOXA), The Walt Disney Company (DIS), and NBCUniversal (CMCSA).
Netflix makes up 5.6% of the First Trust Dow Jones Internet ETF (FDN).