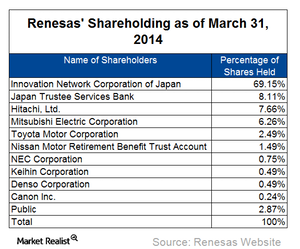 Why Is Infineon Interested in Investing in Renesas?
By Puja Tayal

Updated
Infineon eyes Renesas
German chipmaker Infineon Technologies is showing interest in Japanese (EWJ) automotive semiconductor company Renesas Electronics. After the news leaked on November 20, 2015, Renesas shares rose ~14% and Infineon shares rose ~1%.
In this series, we'll explore the possibilities of the merger and what opportunities and challenges it could bring to the two companies.
Article continues below advertisement
Understanding the speculation
According to a Wall Street Journal article, unnamed sources familiar with the matter stated that Renesas's largest shareholder, Innovation Network, is looking to sell some or all of its stake in the semiconductor company. The shareholder is concerned that Renesas's lack of global presence will leave the company behind its competitors, who are investing heavily to develop advanced technologies.
These sources also stated that Infineon has expressed interest in investing in Renesas, and that Renesas is considering the offer along with other strategic options. Some of these options include entering into a strategic alliance without any exchange of shares or selling more Renesas shares to the public.
Another person familiar with the matter stated that there is a possibility that a domestic company may acquire a portion of Innovation Network's stake in Renesas. A European banker involved in semiconductor consolidation is of the view that an acquisition is the last option that will be considered by Renesas, according to an article in Reuters.
What's in it for Infineon?
Investing in Renesas, a leading supplier of automotive semiconductors, would open Japan's automotive and industrial semiconductor market for Infineon. Japan has been a weaker market for the German chipmaker, as the country's automakers prefer domestic suppliers.
According to data from Thomson Reuters, the market values of Infineon and Renesas are $14 billion and $10.3 billion, respectively. If the two companies join hands, they will be able to give tough competition to the ~$40 billion company that will be created from the combination of NXP Semiconductors (NXPI) and Freescale Semiconductor (FSL).
Infineon was recently rumored to be in merger talks with Fairchild Semiconductor (FCS), which is now being acquired by ON Semiconductor (ON). The German company completed the acquisition of International Rectifier for a cash consideration of $3 billion in January 2015.