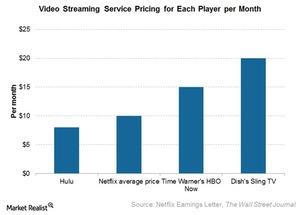 Hulu's Reinvention of Itself: A Closer Look at Business Strategy
By Shirley Pelts

Nov. 18 2015, Updated 3:56 p.m. ET
Hulu's change of business strategy
In the previous part of this series, we discussed the possibility of Hulu selling a stake in its company to Time Warner (TWX) and Hulu's decision to make strategic changes. Now let's look at the way Hulu has changed its business strategy from 2013.
In September, Hulu started offering an ad-free option plan for its users at $11.99 per month. Currently, Hulu's free service is ad-supported while its $7.99-per-month service provides content with fewer ads.
Hulu is also acquiring original content or exclusive SVOD (subscription video-on-demand) rights. Earlier this year, Hulu acquired exclusive SVOD rights to a variety of programming from Turner Broadcasting (TWX). Time Warner makes up 0.28% of the iShares Russell 1000 Growth Index ETF (IWF).
In October, Hulu renewed its agreement with Viacom (VIAB). Under the terms of this agreement, Hulu would be an exclusive SVOD platform to carry Viacom's popular TV shows.
In June this year, Hulu also announced a partnership with CBS's (CBS) Showtime network. Showtime will offer ad-free Showtime TV shows, documentaries, movies, and sports for $8.99 per month on top of the $7.99 per month for a Hulu subscription.
Article continues below advertisement
As the chart above shows, Hulu offers a basic ad-supported subscription plan for $7.99 per month. It remains to be seen how well Hulu's ad-free premium plan, priced at $11.99 per month, is received since Netflix's ad-free subscription plans average $10 per month. On the other hand, Time Warner's HBO Now and Dish Network's (DISH) OTT offerings are slightly more expensive, at $15 and $20, respectively.
Why the change of strategy?
Hulu appears to be adopting a two-pronged strategy to differentiate its offerings from its competitors. In addition to looking at programmatic ad buying to better monetize its content, Hulu has also launched an ad-free premium plan for users who are tired of ads and who may move to competitors.
Further, Hulu is trying to bring in new users by strengthening its offerings through original content. But in the midst of this churn, the company still could rake in revenue through better monetization of its content through ads.