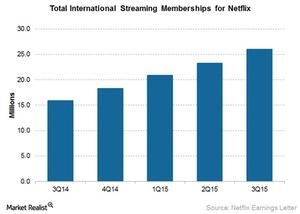 Why Is Hulu Shying Away from International Markets?
Hulu is not looking to expand into international markets
Last month, Hulu CEO Mike Hopkins said at an industry conference in Cannes, France, that Hulu was not looking to expand into international markets any time soon. Hulu competes with another OTT (over-the-top) operator, Netflix (NFLX), which is rapidly expanding into international markets, including Europe and Asia.
As the chart above shows, Netflix's international streaming memberships are increasing steadily, and the company had total international streaming memberships of ~26 million in 3Q15.
Article continues below advertisement
Why is Hulu not expanding internationally?
Hulu is jointly owned by NBCUniversal (CMCSA), 21st Century Fox (FOXA), and the Walt Disney Company (DIS).
Lack of original content could also be the reason why Hulu may be hesitant to expand internationally. It wouldn't be able to gain subscribers rapidly abroad if its content wasn't popular among those users.
However, Hulu is also acquiring original content and acquiring exclusive SVOD (subscription video-on-demand) rights. Earlier this year, it acquired exclusive SVOD rights to a variety of programming from Turner Broadcasting (TWX).
Another reason why Hulu isn't looking at international markets could be a pricing issue. Hulu entered Japan (EWJ) a few years ago, but it had to sell off its Japanese service. Its pricing was considered too high in the Japanese market.
If Hulu does sell a stake to Time Warner, Hulu will be owned jointly by four big media companies. This change could deepen Hulu's cash pockets and enable it to pursue international expansion aggressively.
Time Warner makes up 0.28% of the iShares Russell 1000 Growth Index ETF (IWF).