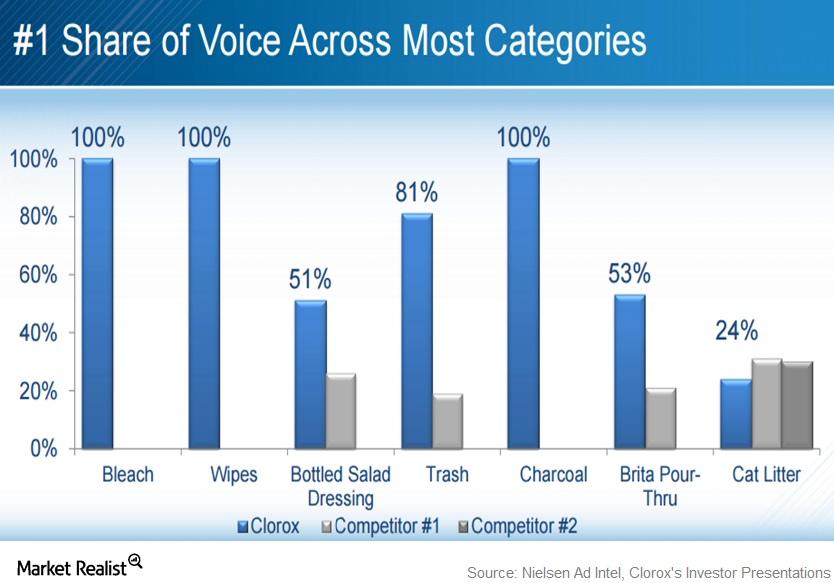 Why It's Hard to Compete with Clorox
Intensity of competition
Clorox (CLX) is a leading manufacturer and seller of consumer and professional products. The company faces stiff competition in terms of product performance, brand recognition, price, and value for money from international companies such as Procter & Gamble (PG), Colgate-Palmolive (CL), Kimberly-Clark (KMB), and Unilever (UL). The company's products also compete with other nationally advertised brands within each category and with private-label brands.
Article continues below advertisement
Bargaining power of buyers
The individual customer has a low influence on price and product because of low elasticity of products in the consumer staples (XLP) sector. However, Clorox's retail (XRT) customers like Walmart (WMT) and Target (TGT) have strong bargaining power. These customers are able to negotiate favorable terms of pricing, as they purchase and sell a large number of Clorox products.
According to a September 23, 2015, Reuters report, Walmart is seeking price cuts from suppliers that produce goods in China in order to share benefits in the savings generated by China's devaluation of the yuan. This could affect Clorox's as well as other companies' businesses with the retailer by pushing back too hard on Walmart's request to lower costs.
Bargaining power of suppliers
Clorox purchases raw materials from numerous unaffiliated domestic and international suppliers, some of which are sole-source or single-source suppliers. So the bargaining power of Clorox's suppliers is relatively weak due to a high concentration of companies selling basic materials.
Article continues below advertisement
Threat of new entrants
Due to CLX's diverse product portfolio and the competitive nature of the consumer products market, it's very difficult for a new company to enter the market and compete with a similar range of products. However, lower capital required for this business has given rise to a number of small local players worldwide.
Threat of substitutes
Clorox's pricing power can also be eroded with product substitutions such as store-brand, private-label products. The market share of private-label products in Europe rose to 13.7% in 2014 from 11.5% in 2008 according to a Kantar Global Footprint report.