Economic planners have responded by aggressively promoting factory automation in China. Last year, China was the single largest market for industrial robot sales, according to the International Federation of Robotics (or IFR), and within two years there will be more industrial robots in Chinese factories than in either the European Union or the United States. This is just the start. There are only 30 robots for every 10,000 manufacturing workers in China, compared with 323 per 10,000 in Japan and 437 per 10,000 in South Korea, IFR data show.
Article continues below advertisement
Factory automation is a recurring theme in our Japan equity portfolios. That's because we have identified a number of good companies that can capitalize on this anticipated growth in Chinese demand for advanced automation. Japanese companies account for half of the foreign firms responsible for some six out every 10 industrial robots sold in China, according to market researcher MIR Industry.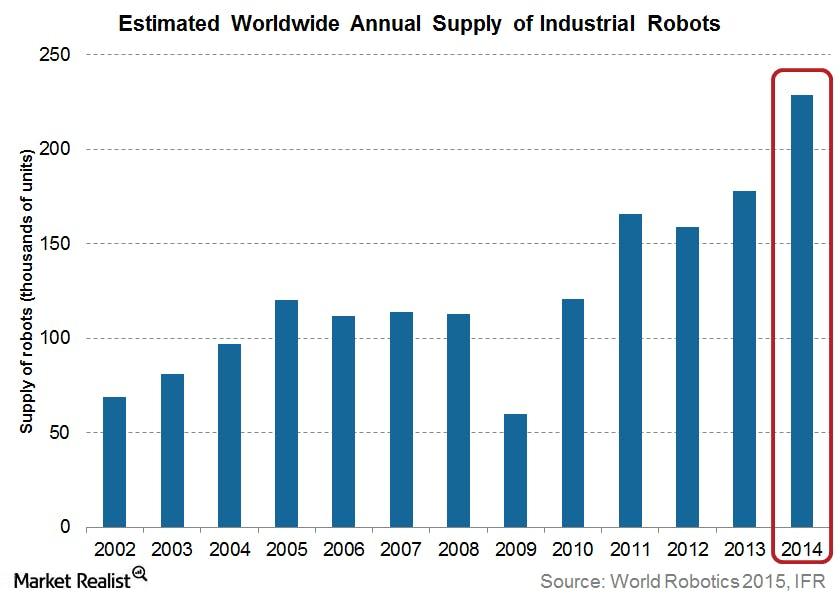 Article continues below advertisement
Market Realist – The rise of factory automation in China (GCH) has been rapid and unprecedented. According to estimates by the International Federation of Robotics, global robot sales surged by a massive 29% to an all-time high of 229,261 units in 2014. You can see this trend in above graph. The increase was fueled by factory automation in China, particularly in the automotive and electronics sectors.
China is the largest market for robots and automated parts in the world. It accounted for 25% of the total supply in 2014. According to estimates by IFR, sales of industrial robots grew by a phenomenal 56% in China to 57,096 units in  2014 from a year earlier. The pace of factory automation in China is quite unprecedented. As per IFR, the country's total supply of industrial robots increased by an average 40% per year from 2010 to 2014.
Article continues below advertisement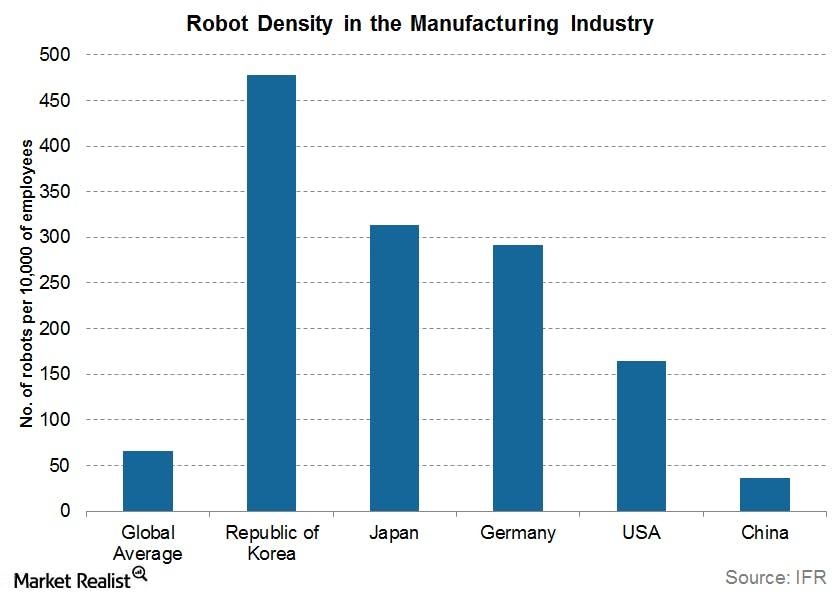 Despite China's leading position, factory automation in China has immense scope for growth. Though it leads emerging markets (VWO) in terms of robot density for the manufacturing sector, it lags other powerhouses like the Republic of Korea, Japan (DXJ), the United States (VTI), and Germany (EWG).
Shenzhen Everwin Precision Technology aims to reduce its workforce by ~90% by employing over 1,000 industrial robots. Other factories in the Pearl River Delta region have already resorted to factory automation with spectacular results. The Changying Precision Technology Company factory in Dongguan has reduced its workforce from 650 to 60 employees by automating its supply chain. According to the People's Daily, this figure could drop to even 20 employees. The People's Daily reports that production per person for the company has soared by 162.5%, from 8,000 pieces to 21,000 pieces. The defect rate has also fallen from 25% to 5%, increasing efficiency.