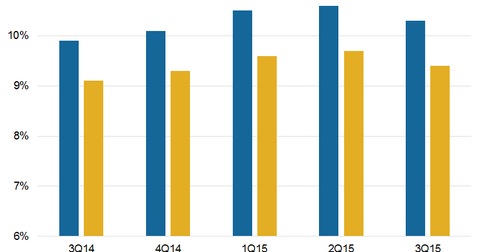 Ares Capital's 3Q15 Investment Performance, Senior Secured Loans
By Robert Karr

Updated
Investment performance
Ares Capital's (ARCC) portfolio totaled $8.7 billion at fair value as of September 30, 2015. Its total assets stood at $9.2 billion. The underlying corporate borrowers in its portfolio reported year-over-year EBITDA (earnings before interest, taxes, depreciation, and amortization) growth in the double digits, at ~11%.
The company's nonaccrual loans were unchanged in the third quarter, with 2.3% of the firm's portfolio at cost and 1.7% of the portfolio at fair value on a nonaccrual basis as of September 30, 2015.
Article continues below advertisement
As of September 30, 2015, the weighted average yield on the company's debt and other income-producing securities at amortized cost decreased to 10.3% from 10.6% as of June 30, 2015. The weighted average yield on total investments at amortized cost decreased to 9.4% from 9.7% within the same timeframe.
Oil- and gas-related investments
Ares Capital (ARCC) made a new investment in Petroflow on nonaccrual during the quarter, which represents about 0.6% of the portfolio at amortized cost. The company has made a total of three investments in the oil and gas sector, which forms less than 3% of its portfolio. Ares Capital is in first lien position with Petroflow, which is facing liquidity constraints on lower oil prices (USO).
Ares Capital continues to invest more in senior secured loans, and 95% of its new commitments during the third quarter were made in the first or second lien. Ares Capital expects that the underlying corporate borrowers in the portfolio at the end of the quarter could deleverage from current levels in order to improve their liquidity, considering the positive 11% year-over-year EBITDA growth of the portfolio companies.
Below is the the year-over-year revenue growth of Ares Capital's peer companies in investment management:
Together, these companies form 6.26% of the PowerShares Global Listed Private Equity Portfolio ETF (PSP).