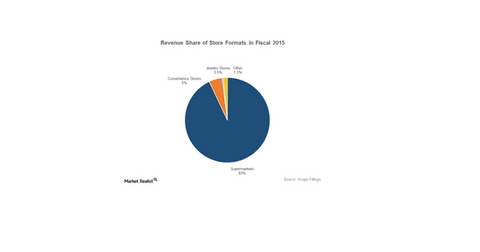 Kroger's Store Formats and Product Offerings
By Sonya Bells

Updated
Store formats
The Kroger Co. (KR) operates in several store formats and offers its customers the option to shop in its stores or online for delivery or pickup. The grocery retailer offers groceries, ready-made meals, basic health services, jewelry, and fuel.
In this part of the series, we will look at Kroger's store formats. The company offers its products through three broad formats: supermarkets, convenience stores, and jewelry stores.
Supermarkets
Supermarkets are Kroger's primary business segment. In fiscal 2015, which ended on January 31, 2015, the company's 2,625 supermarkets accounted for 93% of its total revenue. Kroger operates either directly or through its subsidiaries in 34 states and the District of Columbia under two dozen banners.
Convenience stores
Kroger operates 782 convenience stores (by franchisees or through its subsidiaries) in 19 states, with an average store size of ~3,000 square feet. In fiscal 2015, the convenience store (or C-store) business accounted for 5% of Kroger's total sales, with gasoline sales representing ~75% of total C-Store sales.
The company operates its convenience stores under five banners: Kwik Shop, Loaf 'N Jug, Quik Stop, Tom Thumb, and Turkey Hill Minit Markets.
Fine jewelry stores
Kroger operates 326 fine jewelry stores, by franchisees or through its subsidiaries in 30 states under the Fred Meyer and Littman Jewelers banners. Of these stores, 194 are located inside the company's supermarkets and 132 are located in shopping malls. During fiscal 2015, the jewelry stores accounted for 0.5% of Kroger's total sales.
Kroger's reporting divisions
Kroger reports all its retail operations under a single reportable segment due to their similar economic characteristics. These include product offerings, distribution methods, customer base, and regulatory environments.
Store sales and profitability
During fiscal 2015, Kroger's (KR) sales per retail square foot, at $672, was slightly above The Fresh Market Inc. (TFM) and Walmart (WMT), but lower than Whole Foods Market (WFM).
In terms of store profitability, Whole Foods Market (WFM) outpaced all its peers with gross profit per square foot of $142. Again, Kroger's EBITDA (earnings before interest, tax, depreciation, and amortization) per square foot trailed that of Whole Foods Market but was better than Walmart.
Kroger (KR), Whole Foods Market (WFM), and Walmart (WMT) are included in the portfolio holdings of the Consumer Staples Select Sector SPDR ETF (XLP), with weights of 2.3%, 0.74%, and 5.9%, respectively.