Hershey's New Focus on International Growth Opportunities in 2015
Hershey's international segment contributes only ~30% of total revenues. Its goal is to increase international revenues to ~50% of total revenues by 2018.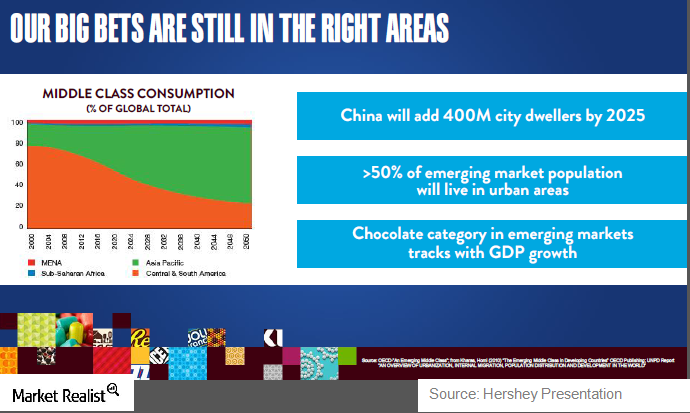 Hershey's North America dependence
The Hershey Company (HSY) is the leader in the US confectionery market (XLP) (IYK), but in the international market in 2014, it placed number six in revenue. In 2014, Mars led global confectionery market, followed by Mondelez International (MDLZ), Ferrero, and Nestle (NSRGY). Hershey lags behind these companies due to its dependence on North America.
Hershey's international market—the rest of the world outside of the US and Canada—contributes only ~30% to Hershey's total revenues. Hershey has thus set a goal to increase its international footprint to ~50% of its total revenues by 2018 by focusing on geographies outside of the US and Canada.
Article continues below advertisement
Article continues below advertisement
International growth opportunities
Statista estimates that global confectionery sales totaled $198.4 billion in 2014. Western Europe's contribution to the global confectionery market was ~29.5%, followed by Asia Pacific with 18.6% share. According to Mondelez, the eight markets driving 70% of the global confectionery market are Brazil, China, Colombia, India, Russia, South Africa, Turkey, and Vietnam.
Hershey's international strategy
Hershey's strategy in the international market is to partner with foreign companies that have knowledge of the local market. The company is thus creating partnerships through mergers, acquisitions, and joint ventures.
More specifically, Hershey's main focus is on the emerging markets of China, Brazil, India, and Mexico. In the international market, Hershey gained a chocolate market share of between 5.8% and 7.2% in the 2011–2014 period. Between 2009 and 2014, Hershey's chocolate category grew by an estimated CAGR (compound annual growth rate) of 12%, 12%, and 30% in the markets of Brazil, China, and India, respectively.
A step forward in Brazilian market
According to Statista, the Brazilian chocolate industry is estimated to be worth ~$10 billion by 2017. With the acquisition of the remaining 49% of its joint venture in Brazil with Bauducco—a well-known cookies and cakes brand in Latin America owned by Pandurata Alimentos—Hershey can operate its business independently to serve the Latin American market.
Continue to the next part of this series for a discussion about why China is such an important market for Hershey in 2015 and beyond.