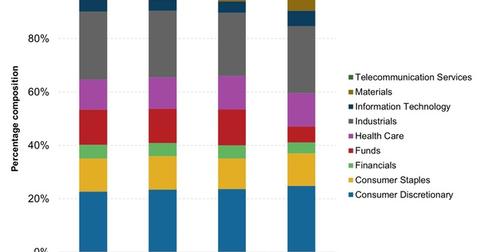 The Hennessy Japan Fund Investor Class (HJPNX): Historical Overview
By David Ashworth

Oct. 29 2015, Updated 8:06 a.m. ET
An introduction
According to its fact sheet, the Hennessy Japan Fund Investor Class (HJPNX) seeks "long-term capital appreciation by investing in stocks of Japanese companies." It intends to do that by "screening for companies with strong businesses and management, trading at an attractive price, regardless of market capitalization. Through in-depth and rigorous analysis and on-site research, the Portfolio Managers identify stocks with a significant 'value gap.'"
Article continues below advertisement
The fund is quite concentrated, with only 22 holdings as of September 30, 2015. The fund's literature states that the fund has a concentrated number of holdings. Due to this concentration, the top ten holdings of the fund make up over 56% of the fund's assets. The fund had assets worth $110.2 million under management at the end of September.
According to the fund's June portfolio—the latest available information with complete holdings—Toyota Motor Corporation (TM), Sumitomo Mitsui Financial Group (SMFG), Mizuho Financial Group (MFG), and Nidec Corporation (NJ) together formed 17% of the fund's portfolio.
Historical portfolios
As the graph above shows, the sectoral composition for September 2015 has been taken from the fund house's website. Below is a breakdown of the fund's holdings:
Industrials and consumer discretionary stocks comprise the core of the portfolio and have near equal weights therein. Combined, they form half of the fund's portfolio.
Consumer staples stocks also have a sizable exposure in the portfolio, making up 12.2% of the fund's assets.
Interestingly, financials form less than 5% of the fund's portfolio, unlike any of its peers.
Telecom services did not form part of the portfolio until June 2015, but by September 2015 this sector made up 4.7% of the fund's portfolio.
It looks as if HJPNX has invested some of its cash and equivalents (shown as funds in the graph) into the telecom services sector. The share of information technology stocks also seems to have increased in September.
But how did the Hennessy Japan Fund Investor Class (HJPNX) perform in September? Continue to the next part of this series to find out.