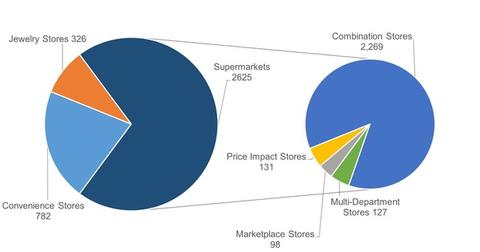 A Look at Supermarkets: Kroger's Primary Business Segment
By Sonya Bells

Updated
Company overview
The Kroger Co. (KR) is the largest supermarket chain in the US by revenue, operating 2,625 supermarkets at the end of fiscal 2015, which ended January 31, 2015. Supermarkets are Kroger's primary business segment and accounted for 93% of the company's total revenue in fiscal 2015.
Kroger's supermarket sales growth has been impressive. The company achieved positive identical supermarket sales, excluding fuel, for 47 straight quarters. Kroger's supermarkets operate under four primary categories: Combination Stores, Multi-Department Stores, Price Impact Stores, and Marketplace Stores.
Article continues below advertisement
Combination stores
The Combination store is the company's primary format and includes healthcare, general merchandise, natural and organic products, pet centers, and fuel centers. These stores have averaged 76,000 square feet during the last four years, with an average investment requirement of $17 million–$19 million.
Multi-Department stores
Kroger's Multi-Department stores average over 161,000 square feet in size and are operated under the Fred Meyer banner at 132 locations. The average investment requirement to build a Fred Meyer store is over $29 million. Kroger acquired Fred Meyer in 1999, creating the number one supermarket chain in the country.
Article continues below advertisement
Marketplace stores
Kroger's Marketplace stores offer grocery, pharmacy, health and beauty care, and general merchandise in a format that is larger than the combo stores, but smaller than the Fred Meyer stores. The average store size ranges between 100,000–130,000 square feet for a Marketplace store and requires a capital investment of $20 million–$22 million. The company operates 98 Marketplace stores within the US and considers these stores to be the primary formats for its future growth.
Warehouse stores
Kroger (KR) operates no-frills, low-cost warehouse stores under the Food 4 Less and Foods Co. banners, under which it offers a wide selection of grocery, healthcare, and beauty care items at low prices. The average store size is 57,000 square feet and requires an average investment of $15 million. The company operates 131 such stores.
The company also operates deep-discount grocery stores under the Ruler Foods banner. These stores average over 18,000 square feet in size and require an average investment of $2.5 million.
Kroger's size versus its supermarket peers
Although Kroger (KR) operates 2,625 supermarket stores in the US, its biggest competitor in its major markets, Walmart (WMT), operates ~4,344 stores in the US alone. Kroger's other competitors are relatively smaller in size and operate fewer stores.
Whole Foods Market (WFM) operates 399 stores, while The Fresh Market Inc. (TFM) and Sprouts Farmers Market Inc. (SFM) operate 169 and 191 stores, respectively. Kroger and all of the above-mentioned peers are a part of the SPDR S&P Retail ETF (XRT) and together account for 5.1% of XRT.