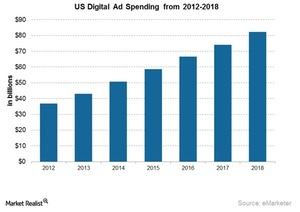 A Look at Disney's Advertising Revenues
By Shirley Pelts

Sep. 23 2015, Updated 12:08 p.m. ET
Advertising revenues in a changing landscape
The Walt Disney Company's (DIS) advertising revenues made up 37% of its Media Networks segment's total revenues of $5.7 billion in fiscal 3Q15. Advertising revenues of $2.1 billion were ~16% of Disney's total revenues of $13.1 billion in fiscal 3Q15.
Before moving on to a discussion about Disney's advertising revenues, it's important to understand the changing advertising landscape. As an increasing number of television viewers move from traditional pay-TV operators like Comcast (CMCSA) and Dish Network (DISH) to over-the-top operators like Netflix (NFLX), advertisers are also moving from television to digital format. We discussed Why Advertising is Moving from TV to Digital in an earlier series.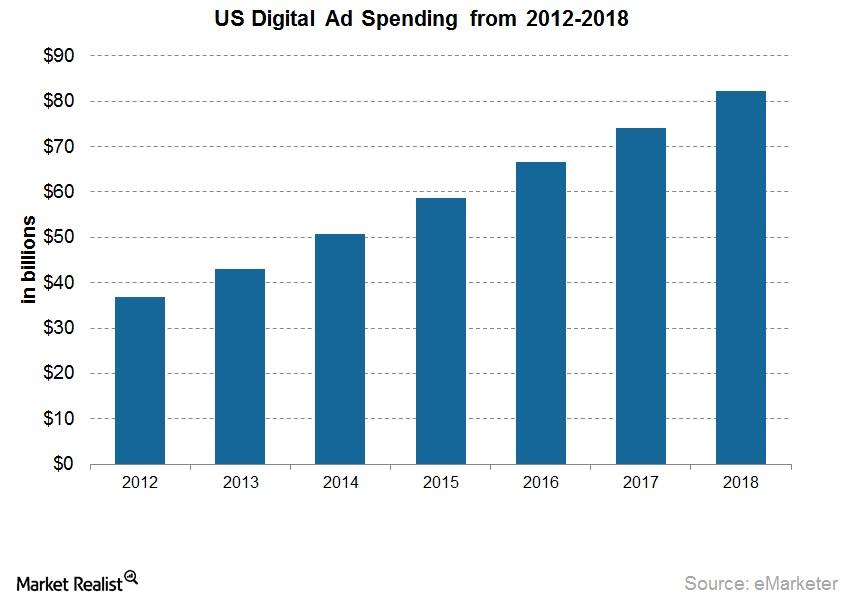 Article continues below advertisement
According to a report by eMarketer and as the above chart indicates, total ad spending on digital format in the United States is expected to top ~$82 billion by 2018. This rising expenditure on digital ads is a great opportunity for Disney to earn advertising revenues. Because of its strong intellectual property that can be monetized across multiple platforms, Disney stands to gain.
Disney's advertising strategy
ESPN and the ABC Network are significant contributors to Disney's advertising revenues. ESPN holds sports broadcasting rights to major US sporting events with a wide audience. ABC Network's programming enjoys high ratings, which means that advertisers on the network can target a large audience.
ABC Network, part of Disney's Broadcasting business, had advertising revenues in the low-single digits in fiscal 3Q15 due to higher ad rates and lower program ratings. Even so, ABC Network's program lineup for the fall season has received good response from advertisers. Disney has stated that it achieved industry-leading price for its advertising time slots in the fall ad upfronts.
Over fiscal 3Q15, ESPN's advertising revenues fell 3%. However, it's difficult to compare this to fiscal 3Q14 on account of the FIFA (International Federation of Association Football) Men's World Cup broadcast that quarter, which earned ESPN significant advertising revenues.
Disney's digital advertising platforms have drawn better numbers than its linear platforms. Disney has relaunched the ESPN website, going for content distribution across multiple platforms, allowing the company to better monetize usage. Last year, ESPN had ad sales of $1 million, and 80% of these sales were multi-platform.
Disney stated in its earnings call for fiscal 3Q15 that it intends to expand its digital advertising platform for ESPN and ABC Network by working with advertisers and market research firms to know the target audience.
You can get diversified exposure to Disney by investing in the iShares S&P 100 ETF (OEF), which holds 1.46% of the stock.