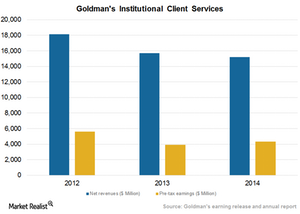 Goldman Sachs' Institutional Client Services Posts Highest Profit
By Robert Karr

Updated
Institutional Client Services
Goldman Sachs (GS) serves clients in trading, financing, and managing portfolio risks. The company involves in market making and facilitates transactions for clients in equity, fixed-income, currency, and commodity products.
The division generated revenues of $15.2 billion in 2014, forming 44% of the company's total revenues compared to 53% in 2012. Its pretax earnings declined to $4.3 billion in 2014, compared to $5.6 billion in 2012.
Globally, market makers provide liquidity and play a critical role in price discovery of various asset classes. The process helps in achieving an overall efficiency of the capital markets.
Goldman Sachs' willingness to commit capital, make markets, and take a risk in a broad range of products is crucial for relationships with various clients.
Article continues below advertisement
Diversified clientele
Goldman Sachs primarily serves institutions including investment entities whose clientele includes retail as well as corporate customers. Through its sales force, the company executes transactions on behalf of its clients and distributes investment research, trading ideas, market information, and analysis. The company also takes a position of buyer or seller if the corresponding party is unavailable.
Goldman Sachs supports its division through its Global Investment Research division, which provides research on more than 3,600 companies globally and more than 40 national economies. The division also provides research on industries, currencies, and commodities.
Goldman Sachs' major services in the division include offerings related to interest rate products, credit products, mortgages, currencies, and commodities. In equities, client execution activities include making markets in equity products. The company earns commissions and fees from executing and clearing institutional client transactions on major stock, options, and futures exchanges worldwide.