Disney's ESPN: Revenues under Competitive Pressure
ESPN is a part of Disney's Media Networks segment. Affiliate fees are major component of this segment and are under pressure due to subscriber loss.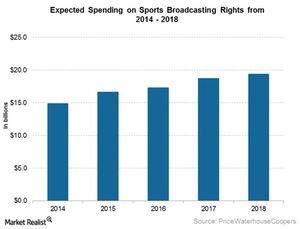 ESPN's revenue model
The Walt Disney Company's (DIS) ESPN is part of the company's Media Networks segment. As we learned in the previous part of this series, a significant component of this segment's revenues is made up of affiliate fees and advertising revenues.
However, affiliate fees are under increasing pressure due to pay-TV operators' loss of subscribers. Subscriber losses are a cause for worry for ESPN because according to the contractual agreements with its distributors like Dish Network (DISH), affiliate fees get amended if the number of subscribers drops below a particular level.
Disney's ESPN earns a large part of its advertising revenues through sports programming, especially live sports. Disney stated in its fiscal 3Q15 earnings call that 96% of all sports programming is watched live.
ESPN holds the broadcasting rights for almost all main US sporting events, including NFL (National Football League) games. As a result, ESPN can charge a high price for advertising on its sports telecasts.
In this scenario, cost pressures on ESPN are also important. Acquiring broadcasting rights for major sporting events is a major part of ESPN's programming costs.
As the chart above indicates, according to a PricewaterhouseCoopers report, the cost for sports telecasting rights is expected to rise at a compound annual growth rate (or CAGR) of ~5.3% between 2015 and 2018. It's anticipated to be $19.3 billion in 2018.
Sports broadcasting rights are an expensive affair for media companies. Currently, ESPN is facing severe competition for those rights from 21st Century Fox's (FOXA) Fox Sports and Comcast's (CMCSA) NBC.
Article continues below advertisement
Article continues below advertisement
The fight for sports broadcasting rights
According to a Wall Street Journal report dated July 9, 2015, ESPN has agreed to pay the NBA (National Basketball Association) $1.47 billion in a telecasting rights renewal agreement. This is a threefold jump from the NBA's earlier average annual fee of $485 million.
ESPN is aggressively pursuing sports broadcasting rights because if it loses out on major US sporting events, it loses out on advertising revenues, too. The pricing of advertising time slots depends on the quality of its programming and the quantity of its audience.
You can get diversified exposure to Disney by investing in the iShares S&P 500 Growth ETF (IVW), which holds 1.7% of the stock.