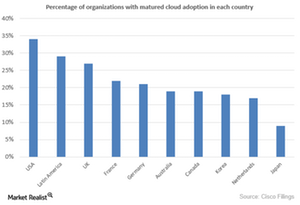 Percentage of Organizations with Matured Cloud Adoption in Each Country
Private or hybrid cloud
Cisco's (CSCO) findings in a global study reveal that organizations don't follow the traditional way of adopting cloud that remains to gain operational efficiency. Cloud is moving into a second wave of adoption. Organizations are leveraging cloud to fuel innovation, growth, and disruption. The study revealed that 53% of organizations expect that cloud will solely drive a rise in revenue over the next two years. Organizations are more interested in adopting private or hybrid cloud, primarily because both of these models offer security, performance, price, control, and data protection. The IDC (International Data Corporation) shows that 64% of cloud adopters are using the hybrid cloud and 44% of organizations have plans to implement a private cloud.
Article continues below advertisement
Article continues below advertisement
The organization generated additional revenue of $1.6 million per application deployed on the private or public cloud. The rise in revenue resulted from sales of new products and services and the expanding consumer base by pitching into a new market. The above chart shows the percentage of organizations that adopted cloud as a platform across countries. The US, Latin America, United Kingdom, France, and Germany account for 34%, 29%, 27%, 22%, and 21%, respectively.
Cisco is educating their customers
Cloud technology is being adopted by companies irrespective of the industry. Manufacturing has the largest number of companies that adopted cloud at 33%. It's followed by IT at 30%, finance at 29%, and healthcare at 28%. ERP Vendors like SAP, Microsoft (MSFT), Oracle (ORCL), and NetSuite (N) provide cloud ERP solutions to the sectors mentioned above. Cisco helps organizations translate this study into the customized report. The Cisco Business Cloud Advisory Tool allows organizations to assess the survey to determine an effective cloud model and improve the business outcome.
Cisco accounts for 2.74% of the PowerShares QQQ Trust (QQQ) and 3.50% of the Technology Select Sector SPDR Fund (XLK).