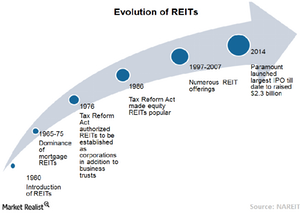 How Have REITs Evolved over the Years?
By Peter Barnes

Updated
Initial phase was dominated by mortgage REITs
After a slow start, the REIT industry expanded rapidly especially during the period from 1965 to 1975. Mortgage REITs dominated the industry during its initial phase. This was mainly due to the fact that the ownership and management of assets were required to remain separate under the law.
Article continues below advertisement
Tax reform acts
The dominance of mortgage REITs fell during the 1990s especially after the passage of Tax Reform Act of 1986. The act permitted REITs to own as well as manage their properties. In response to this act, most of the REITs changed their structure and started to actively manage and follow the owner and operators model rather than simply owning assets, as was common in the early years. The act led to a number of equity REIT IPOs (initial public offerings) in the mid-1990s. Before that, the Tax Reform Act of 1976 gave an impetus to the industry by authorizing REITs to be established as corporations in addition to business trusts.
Quick look into the history
In 1970, the first healthcare REIT was launched. There was no major activity in the sector for the next two decades. In 1991, Kimco Realty (KIM) came out with an initial offer and received an overwhelming response. This initiated the modern era for the REIT. In 1993, Simon Property (SPG) raised $839.9 million by issuing the biggest IPO at that time. After 1993, the sector experienced explosive growth and wide acceptance among investors. The next decade witnessed some sizable REITs entering the market like Boston Properties (BXP), KKR Financial (KFN), and Douglas Emmett (DEI).
During the housing crisis, the industry struggled and responded by restructuring their balance sheets. Most of the companies paid off debt while others sold stocks to increase liquidity. Since then, the industry has recovered with the rise in economic fundamentals. Today, the REIT has become one of the major sources of funds for the real estate sector. They own commercial real estate assets worth around $1.7 trillion in the US.
Investors looking for diversification in the REIT sector can get exposure in REIT ETFs like the Vanguard REIT ETF (VNQ), the iShares U.S. Real Estate ETF (IYR), and the iShares Cohen & Steers REIT ETF (ICF).