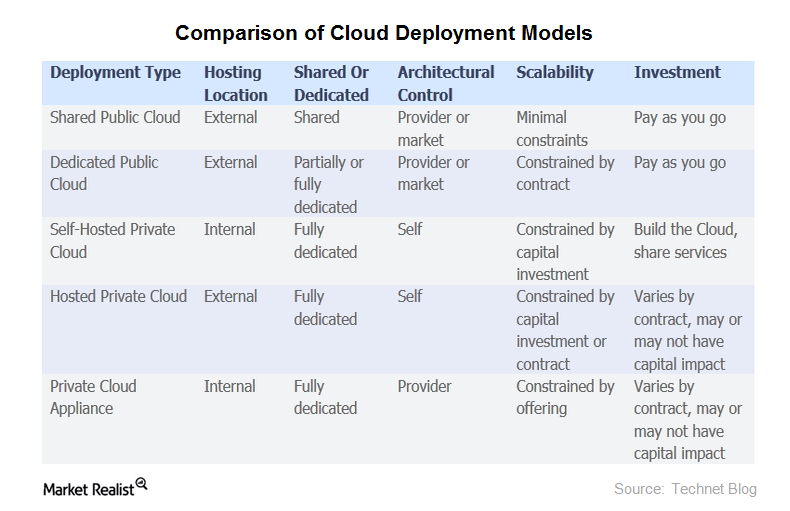 Rackspace Is the Leader in the Hosted Private Cloud Market
Rackspace leads the hosted private cloud market
In the prior part of the series, we discussed Rackspace's (RAX) position in Gartner's Leaders Quadrant. According to 451 research, Rackspace leads the hosted private cloud space with a 20% market share. This market is a "highly fragmented market" where cloud providers with less than 3% of market share make up 52% of currently used vendors.
According to Forrester, hosted private cloud is an IaaS (infrastructure-as-a-service) "where the solution lives off-premises in a hosted environment and compute resources are dedicated and isolated for customers." With hosted private cloud, though its environment is internally designed, it is managed and hosted externally by a cloud provider like Microsoft (MSFT) or IBM (IBM). Hosted private cloud thus combines the benefits of architectural design and controlling the service with datacenter outsourcing benefits.
Article continues below advertisement
Amazon's AWS leadership position is being challenged by the likes of VMware and Rackspace
Michelle Bailey, senior vice president of digital infrastructure and data strategy at 451 research, stated, "While the 2015 Vendor Window for IaaS shows Amazon Web Services as the clear leader based on multiple metrics, Microsoft Azure, Rackspace and VMware's vCloud Air are becoming competitive challengers."
In the prior part of the series, we discussed that Rackspace supports Microsoft's Azure, Windows Hyper-V Server or Exchange, as well as VMware's (VMW) vCenter and vCloud. If all three players were to unite, they could present a formidable challenge to the dominance of Amazon's presence in the cloud market.
You could consider investing in the iShares US Technology ETF (IYW) to gain exposure to Rackspace. IYW invests about 0.11% of its holdings in Rackspace.