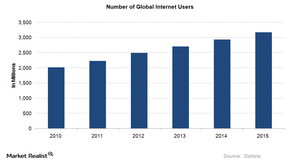 Internet.org: Another Facebook Long-term Project
By Matilda James

Updated
Internet.org is a crucial investment
We've already looked at Facebook's (FB) long-term project in virtual reality. Another long-term project is Internet.org, a crucial and large investment for Facebook.
Through Internet.org, Facebook offers various countries in the developing world a free app (application) that enables users to access certain websites and apps without any data charges. This gives users access to basic information and online services. Over the next ten years, Facebook intends to connect everyone in the world to the Internet through Internet.org.
Article continues below advertisement
Facebook launches Facebook Lite
In June, Facebook launched Facebook Lite to expand user base in emerging markets (EEM) in Asia, Africa, and Latin America. Facebook Lite is a version of its own Android application that's light on data, making it easier to download. The main motivation for this move is to expand the company's user base, especially in emerging markets.
Internet penetration is indeed quite low in developing markets such as Africa and Asia. According to Statista, the growth in the number of worldwide Internet users is pretty slow, from 2.94 billion in 2014 to 3.17 billion in 2015.
In 2013, Facebook launched Internet.org in collaboration with the following six mobile phone companies:
In addition to these initiatives, Facebook launched missed call ads in India and Africa last year. By clicking on a Facebook ad, users receive a call from the advertiser, who then takes on the cost of the call. With this, Facebook plans to attract local businesses to use its social network for advertising, connecting businesses with consumers.