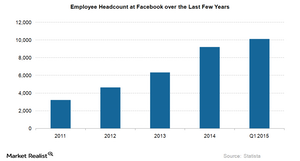 Where Is Facebook Investing Heavily?
Major areas of investment
As we saw in the previous part of this series, Facebook's (FB) expenses grew 82% in 2Q15. This was the result of the company investing heavily in certain initiatives and projects. In this part, we'll look at Facebook's key investment areas. The most important area is employee headcount.
The number of Facebook employees has increased greatly in the last couple of years, as you can see in the above graph. The company has been hiring engineers aggressively, and its headcount reported at the end of March 2015 was 10,082. This is an increase of 48% compared to March 2014.
Article continues below advertisement
Besides hiring new talent, Facebook has been investing heavily in improving user experience on its products. These products include Instagram, WhatsApp Messenger, and Messenger. Instagram is expected to churn big money for Facebook. A recent report from Bank of America Merrill Lynch predicts Instagram will earn $300 million in Facebook revenues in 2016. Facebook's primary focus is thus Instagram.
Another important area for Facebook investments is advertising technology, which has an impact on its advertising business. The company's investments in Atlas and other ad tools and programs such as Audience Network and Custom Audiences are some of the initiatives intended to strengthen Facebook's advertising business.
Facebook's interest is growing in the mobile ad market
Investments in ad tools and programs indicate Facebook's growing interest in the mobile ad market. This also clearly indicates how ad dollars are shifting to mobile. Twitter (TWTR) also released a new developer platform called Fabric to help create and monetize apps (applications). Fabric goes one step further than Audience Network. It not only helps developers manage their ad inventories but also helps developers debug and test new apps.
Google's (GOOG) AdMob and Yahoo!'s (YHOO) Flurry are similar to Audience Network and signal that competition is heating up in the mobile advertising market.
To get portfolio exposure to Facebook, you can consider investing in the PowerShares QQQ Trust, Series 1 ETF (QQQ).