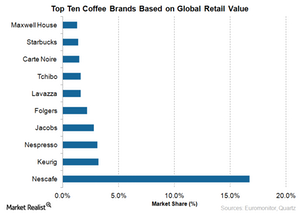 Will Coffee Peers Step Up Their Game with Jacobs Douwe Egberts?
Competitive landscape
Article continues below advertisement
Global positioning
Although the demand for coffee pods is growing rapidly, Nestlé's instant coffee brand Nescafé continues to rule the world with a 16.7% market share in 2013 based on retail value. Keurig ranked second, followed by Nestlé's Nespresso. These two brands are iconic in the coffee pods market. When it comes to the US market, Keurig is the number-one brand with an 18.4% market share.
The new Jacobs Douwe Egberts owns the Jacobs and Maxwell House coffee brands, which ranked fourth and tenth, respectively, in 2013. It also owns the Pilão, Tassimo, Senseo, and Douwe Egberts brands. All of them rank among the top 20 global coffee brands based on retail sales value.
Demand for coffee pods and capsules
With the emergence of Jacobs Douwe Egberts, Keurig and other coffee producers will focus more on expanding their product portfolio. They'll also focus on an international presence to capture the growing global demand for coffee.
Although Nestlé might continue to dominate the instant coffee market, Keurig and the Jacobs Douwe Egberts brands will threaten its position in the coffee pod and capsules markets. The rise in the use of coffee brewers like Keurig, Nestlé's Nespresso, and Starbucks's (SBUX) Verismo System is driving the demand for coffee capsules and pods.
Like its predecessor companies Mondelez (MDLZ) and D.E Master Blenders 1753, Jacobs Douwe Egberts will continue to expand in the pod and capsules category with its extensive product line. It will continue to challenge Nespresso's global position and Keurig's domination in the United States.
Keurig already has strong partnerships with companies like Starbucks and Dunkin Brands (DNKN), which make these brands available with its coffee machines. Keurig continues to expand the varieties it offers for its brewing system. Keurig makes up ~0.4% of the portfolio holdings of the Consumer Staples Select Sector SPDR Fund (XLP).
For more information, visit our Nonalcoholic Beverages page.