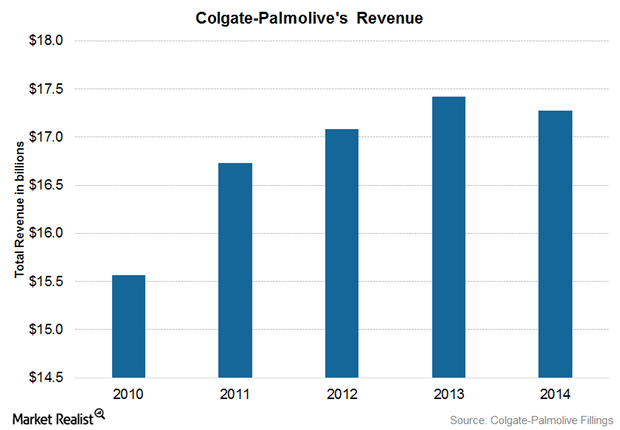 Colgate-Palmolive Is a Leading Fast-Moving Consumer Goods Firm
Understanding Colgate's business
Colgate-Palmolive (CL), or Colgate, is a multinational consumer staples (XLP) firm, focused on the production, distribution, and provision of household products. Colgate's products are marketed in over 200 countries and territories throughout the world. Colgate was founded in 1806 by William Colgate. The company was incorporated in 1923.
Colgate operates in two product segments:
oral, personal, and home care, which includes oral hygiene products, soaps, and detergents
pet nutrition, which includes veterinary products for dogs and cats
Colgate's total revenue for fiscal 2014[1. Year ended December 31, 2014] came in at $17.3 billion with an operating profit of $3.6 billion. The company's market cap of $60.8[2. Updated as on July 8, 2015] billion is higher than peers Kimberly-Clark's (KMB) and Clorox's (CLX) market caps of $39.9 billion and $14.1 billion, respectively.
However, peers Procter & Gamble (PG) and Unilever (UL) have market caps of $221.7 billion and $124.1 billion, respectively, much higher than Colgate.
Article continues below advertisement
Famous household brands
Colgate is a global leader in oral care with the leading toothpaste and manual toothbrush brands. The global market share of Colgate's toothpaste was estimated at 44.4%, and its share for manual toothbrushes was estimated at 33.4% for fiscal 2014. Colgate's oral care business also includes pharmaceutical products for dentists and other oral health professionals.
Colgate-Total, Colgate Sensitive Pro-Relief, and Colgate Max Fresh are Colgate's famous oral care brands. Palmolive, Protex, Sanex, and Ajax are some of the company's other brands.
According to Kantar's Global Footprint report[3. Kantar report], Colgate added 19 million shoppers in 2014, the highest among brands. Dove (UL) and Downy (PG) added 14 million and 11 million shoppers, respectively. Colgate's penetration rate was over 64%, implying it was reaching over half the world's households. This was the highest among all of the brands that were surveyed.