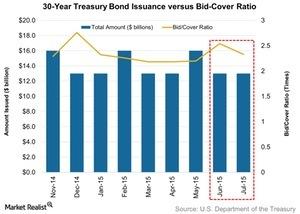 10-Year Treasury Note Market Demand Barely Moved Last Week
Ten-year Treasury notes
The US Treasury Department conducts its auction of ten-year Treasury Notes (or T-notes) once every month. The yield on the ten-year T-notes is considered the benchmark yield in the financial market. The note is a popular debt instrument in the world because it's backed by the US government's guarantee.
Investors can invest in mutual funds such as the Vanguard Long-Term Treasury Fund Shares (VUSTX), which invests at least 80% of its assets in US Treasury securities. This fund provided a week-over-week return of 1.45%. It has a modified duration of 16.8 years. Also, American Funds US Government Sec A (AMUSX), which invests in government securities, has provided a week-over-week return of 0.38% and a year-to-date return of 0.86%.
Article continues below advertisement
Article continues below advertisement
Key takeaways
On July 8, ten-year Treasury notes worth $21 billion were auctioned—the same as the previous week.
The coupon rate came in at 2.125%, with no change compared to the previous month.
High yield stood at 2.225%, lower than the 2.461% in the June auction.
The bid-to-cover ratio fell marginally compared to the previous month. The ratio was 2.72x versus 2.74x in June. The bid-to-cover ratio depicts overall demand for the auction.
Yield analysis
The ten-year benchmark yield dropped by 5 basis points in the secondary market after the auction on July 8. Yield went to 2.22% from 2.27% on the previous day.
Demand analysis
A marginal drop in the share of direct bidders along with a slight increase in the share of indirect bidders kept market demand almost flat.
Market demand rose marginally for ten-year T-notes from 70.0% in June to 70.2% in July. The share of indirect bidders rose slightly to 58.1% in July from 57.9% in June. Direct bids fell to 12.1% in July from 12.2% in June.
Indirect bidders include bids from foreign central banks while direct bids include bids from domestic money managers such as State Street (STT) and BlackRock (BLK).
Bids from primary dealers dropped to 29.8% in July from 30.0% in June. Primary dealers act as market makers for the auctioned securities. They include financial institutions like Credit Suisse (CS).