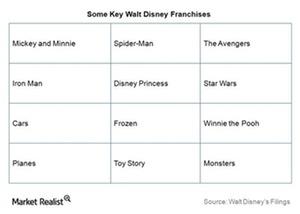 Disney's Franchise-Focused Growth Strategy
Disney's intellectual property
In this part of the series, we'll look at The Walt Disney Company's (DIS) growth strategy. Disney uses a franchise-focused strategy that enables it to monetize its IP (intellectual properties) across its segments for a long time. The company's 11 franchises had retail sales of more than $1 billion last year.
As you can see in the above chart, Disney has a wide array of intellectual properties. For example, Cars was released almost a decade ago, but the IP is currently making more than $1 billion in retail sales.
Article continues below advertisement
Article continues below advertisement
Strategy across segments
Disney is looking to create and sell content to third parties across various spectrums of viewing. This includes binge viewing of TV shows to 45-second videos on YouTube (GOOG). The company has the ability to cater to this audience with ABC Studios and Maker Studios.
Disney's ABC Studios is looking to create content and sell it to multiple buyers like Netflix (NFLX) and Amazon (AMZN) Prime Instant Videos.
ESPN, a key growth driver for Disney, is being positioned as a multi-platform business. Disney has relaunched the ESPN website, going for content distribution across multiple platforms. This allows Disney to better monetize usage across various platforms. Last year, ESPN had ad sales of $1 million, and 80% of these sales were multi-platform.
The acquisitions of Pixar Animation Studios and Marvel Studios are generating value for Disney. Pixar and Marvel have together generated an average of ~$1.4 billion in the global box office for the 21 films that have been produced since the acquisitions.
Disney is also looking to leverage its Star Wars franchise. It produced three films between 2015 and May 2017 that can be monetized across its other segments with retail merchandise, console games, and Star Wars attractions at its theme parks.
You can get a diversified exposure to Google by investing in the iShares S&P 500 Index ETF (IVV), which holds 0.87% of the stock.