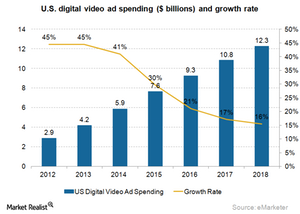 Music-Label Deals Could Also Help Facebook's Video Ambitions
Facebook currently deletes all videos containing snippets of copyrighted songs
In the prior parts of this series, we learned about how Facebook (FB) could benefit if it launches its music streaming service. Meanwhile, the company could also be in talks with various music labels to get the legal right to play their songs on its platform. This would help Facebook avoid music-label lawsuits stemming from videos that include copyrighted music and that are uploaded to its platform by Facebook users. Currently, Facebook deletes all such videos to avoid the legal trouble.
Meanwhile, Google's (GOOG) YouTube platform allows such videos, as it has already signed deals with music labels involving an ad revenue sharing model for videos that contain copyrighted songs. This automatically makes YouTube the preferred platform for video creators.
Article continues below advertisement
Article continues below advertisement
Facebook has ambitions to become the largest player in the video ad market
In the past, Google faced legal issues for allowing users to upload unauthorized videos on YouTube. It settled an infamous $1 billion lawsuit filed by Viacom (VIAB) last year after a seven-year legal battle. Facebook wants to avoid such issues.
Facebook has been concentrating its efforts on video for a long time now. It has ambitions of becoming the number one player in the video ad market, which is currently led by YouTube. According to a report from eMarketer, and as the chart above shows, the US digital video ad market could keep growing at a healthy rate, from $5.9 billion in 2014 to $12.3 billion in 2018.
Even Twitter (TWTR) is looking to leverage this fast-growing market with its recently launched autoplay videos feature. These videos play automatically on a user's timeline, but are muted as the user scrolls down the timeline.
For diversified exposure to Facebook, you can invest in the PowerShares QQQ Trust, Series 1 (QQQ). QQQ invests about 3.4% of its holdings in Facebook.