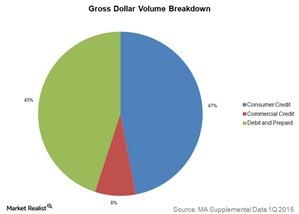 Understanding MasterCard's Credit and Debit Products
Consumer credit
MasterCard (MA) provides a wide range of products and solutions that support payment products such as credit and debit cards. MasterCard's direct clients include financial institutions, primarily banks. These clients in turn offer MasterCard products and solutions to their cardholders, particularly consumer and commercial credit cards. Consumer credit accounts for nearly half of the company's total payment volume.
Article continues below advertisement
Debit and prepaid products
MasterCard's debit programs allow its direct customers such as banks to provide their end consumers with convenient access to funds in deposit and other accounts. These programs enable customers to pay for purchases and to obtain cash in bank branches, ATMs, and at the point of sale.
MasterCard's prepaid programs support prepaid cards and similar payment systems. With a prepaid card, a user can make a payment up to the amount held in the card balance. Debit and prepaid products account for ~45% of the company's total payment volume.
The above graph provides the breakdown of 2014's charge volume, or gross dollar volume, for MasterCard's various programs. MasterCard also offers commercial payment products and solutions to companies of all sizes. These products help companies streamline their purchase and payment processes and reduce their administrative costs.
Payment innovations
The increased adoption of mobile devices allows consumers to use their payment accounts at their convenience. MasterCard developed several products and services that meet this need. MasterCard's digital platform MasterPass streamlines the retail sale and purchase process for the consumer and the merchant.
Once activated, MasterPass allows customers to add their credit, debit, prepaid, and store cards, as well as the shipping address, to the account. When customers check out while shopping, they simply need to choose the MasterPass option to sign into their wallet. The purchase can then be completed by selecting the card and the address.
MasterCard enables consumers to use their smartphones to make digital payments through partnerships with mobile companies such as Apple, Google, and Samsung.