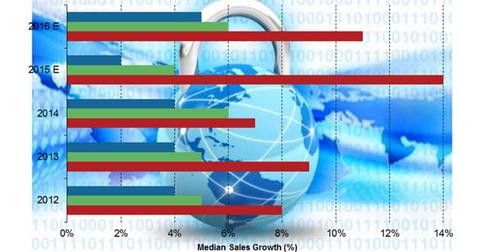 CyberSecurity Stocks Rise: Exceed S&P 500 and the Tech Sector
By Shelly Vinson

Updated
Market Realist – Rise of cybersecurity stocks
The US government's Office of Personnel Management suffered a breach in April 2015. It announced the breach to the public in June. The intrusion is indeed a grave matter because the agency stores data on the financial and background information of more than 30 million people. According to reports from Bloomberg, the agency has reported stolen names, social security numbers, sensitive security clearance records, pay records, health records, and personal data of more than 14 million people, including current and former federal employees.
The recent slew of cybersecurity breaches has fanned paranoia and veered companies towards increased security spending. This is acting as a major tailwind for US cybersecurity stocks.
Goldman Sachs estimates the median cybersecurity company sales to rise by a massive 14% this year, while it puts sales growth for S&P 500 companies at 2%. Sales growth for cybersecurity stocks is estimated to exceed both the S&P 500 and the technology sector this year and next year. This can be seen in the previous graph.
The rise of cybersecurity stocks makes the Pure Funds ISE Cyber Security ETF (HACK) a good investment opportunity. The ETF has outperformed both the iShares Core S&P 500 ETF (IVV) and the iShares U.S. Technology ETF (IYW) this year—as can be seen in the previous graph. HACK is registering an astonishing YTD (year-to-date) return of 26%. The recent headlines on cybersecurity breaches have led to massive inflows into the ETF. As a result, it crossed the $1 billion threshold on June 16, 2015.
HACK is comprised of cybersecurity stocks like CyberArk Software (CYBR), Juniper Networks, FireEye (FEYE), Inflobox, Palo Alto Networks, and AVG Technologies (AVG). All of these companies have performed extremely well this year. Recently, FireEye made a deal with Visa to develop joint threat intelligence tools. CyberArk rose more than 80% YTD, Palo Alto (PANW) rose 49% YTD, Fortinet (FTNT) rose 42%, and FireEye rose 72%. Cybersecurity stocks could be good investment opportunities for investors in the future.