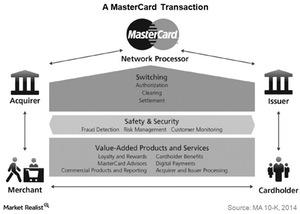 MasterCard: The World's Second Largest Payment Processing Company
By Rekha Khandelwal, CFA

Jun. 25 2015, Updated 5:12 a.m. ET
Business
A leading global payments technology company, MasterCard (MA) enables consumers and businesses to use electronic modes of payment instead of cash and checks. MasterCard's payment network is the second largest in the world, behind leader Visa (V).
A typical transaction on the MasterCard network involves four parties: the cardholder, the merchant, the issuer, and the acquirer. The cardholder is the person using a card to make an online or in-person purchase, and the merchant is the entity that receives the payment for the purchase. The issuer is the bank that provides the credit card account to the cardholder, and the acquirer is the merchant's financial institution that receives the funds from the cardholder's purchase.
This type of transaction generally takes place in a four-party network. The above diagram shows a typical transaction on the MasterCard network.
Article continues below advertisement
Payment transactions
In a typical transaction, a cardholder purchases goods or services from a merchant using a credit or debit card. Once the transaction is authorized by the issuing bank, it pays the acquirer an amount equal to the value of the transaction, less an interchange fee.
Interchange fees are generally collected from the merchant's acquirer and paid to the card issuer. These fees reimburse the issuers for a percentage of the costs incurred by providing these services.
The issuing bank then posts the transaction to the cardholder's account. The acquirer pays the purchase amount, net of a merchant discount to the merchant. The merchant discount rate is set by the acquirer to cover its costs of participating in the system and providing services to merchants. The discount rate varies depending on the issuer's policies, the merchant's credit rating, and the type of card, such as personal, business, internationally issued, or US-based. The discount also varies depending on whether the card transaction is made by phone, online, or swiped in person.
The merchant discount can be charged to the merchant after the purchase is completed and subtracted from the merchant's deposited funds, or it can be aggregated with other fees during the statement period and subtracted in one lump sum.
MasterCard's role
MasterCard does not issue its own cards and, unlike the card issuer, it does not extend credit to the cardholder. In most cases, cardholder relationships are managed by the card-issuing banks or institutions.
In this series, we'll explore MasterCard's business in greater detail. We'll look at factors that impact its performance, its competitors, operational metrics, and future prospects, which should help you in making informed investment decisions about the company.