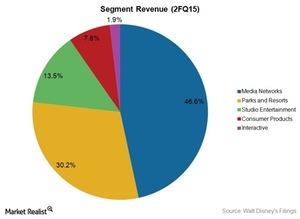 Disney Monetizes Frozen in Multiple Segments in 2Q15
Disney's business model
An integrated business model helps The Walt Disney Company (DIS) utilize value created by its intellectual properties such as Frozen across its different segments. Lowell Singer—Disney's senior vice president of investor relations—commented on May 13, "And Jay talked about this earlier, but I think that fully-integrated business model allows us to take — where we have a success like Frozen, which we had theatrically — we can then exploit that in many different parts of our businesses, whether it's Consumer Products or theme parks or television." He recently spoke about this at MoffettNathanson Media & Communications Summit.
Disney operates in Media Networks, Parks and Resorts, Studio Entertainment, Consumer Products, and Interactive segments.
Article continues below advertisement
Article continues below advertisement
As you can see in the chart above, the conglomerate's largest segment was Media Networks, contributing ~47% to the company's overall revenues in 2Q15. Media Networks was the fastest-growing segment in terms of revenue during the quarter. The segment's revenue increased by ~13% year-over-year to ~$5.8 billion.
The second-largest segment was Parks and Resorts. It grew by ~6% year-over-year to reach ~$3.8 billion in 2Q15. The company's other significant segments are Studio Entertainment and Consumer Products.
Frozen contributed to multiple segments' growth in 2Q15
Frozen is Disney's animated blockbuster. It was released in November 2013. According to Box Office Mojo, the movie has grossed ~$1.27 billion in its lifetime. The domestic market contributed to ~31% of the movie's collections. International markets contributed to ~69% of these collections.
In 2Q15, as one of Disney's key franchises, Frozen contributed to segment growth. Frozen merchandise contributed to the year-over-year revenue growth of the Filmed Entertainment and Consumer Products segments during the quarter.
Frozen also contributed to the year-over-year growth of mobile games revenue in 2Q15. Games are the largest revenue contributor of Disney's Interactive segment. According to the company, Frozen also contributed to its Theme Parks business.
If you want to take on diversified exposure to Disney, you may invest in the iShares Core S&P 500 ETF (IVV). The ETF held ~0.9% in the company on April 30, 2015. The ETF also held a total of ~1.5% in media companies Comcast (CMCSA), Time Warner (TWX), and Twenty-First Century Fox (FOXA).