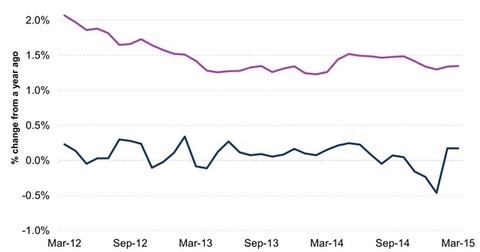 Why Are Policymakers Optimistic about PCE Inflation?
By David Ashworth

Updated
PCE inflation
PCE inflation refers to the price index for personal consumption expenditures (or PCE). According to the Federal Reserve, this indicator is the "most consistent over the longer run with the US Federal Reserve's statutory mandate." The FOMC (Federal Open Market Committee) has an explicit target of a 2% rate of inflation over the long run.
The graph below illustrates why policymakers have been hesitant to raise the federal funds rate. PCE inflation is not showing any upward movement toward the 2% goal. Remember that PCE inflation does not need to reach 2% for the FOMC to take rate action—it just needs to move toward it in a sustainable manner.
So, why are policymakers still confident about PCE inflation moving toward its target?
Article continues below advertisement
Core PCE inflation
One of the primary reasons for that optimism is a stable core PCE inflation reading. Core inflation strips volatile items like food and energy from the inflation calculation. Although there is no upward trend in this measure either, it has at least remained stable and has not fallen. This implies that inflationary pressures may be taking hold.
An uptick in crude oil prices
The Fed staff revised up its near-term inflation forecast due to a reversal in crude oil prices. This uptick has led to the United States Oil Fund (USO) rising by ~2.5% in the past month. Energy stocks like Marathon Petroleum (MPC), Valero Energy (VLO), and Alon USA Energy (ALJ) have risen 5.0%, 4.8%, and 8.9%, respectively, in the past month.
With steady core inflation, an uptick in oil prices can provide the desired boost to inflation.
The improving labor market
The labor market is dealing with its own hiccup, but if there is inherent strength, then it will also help push inflation higher. With more people earning, their spending on household items (XLP) and automobiles should rise, which will push PCE inflation up.
As part of this equation, oil prices have a lot riding on them. Let's look at that in the next article.