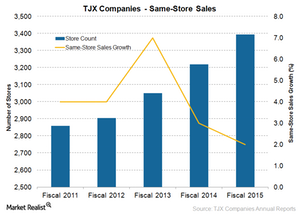 Gauging TJX Companies' Same-Store Sales Growth
Impressive track record
TJX Companies (TJX) has an impressive track record of continually delivering growth in same-store sales. Same-store sales represent sales from the company's existing stores during a certain period, excluding the impact of store openings and closures.
The last instance of TJX Companies reporting a decline in its same-store or comparable store sales was in 1996.
Article continues below advertisement
Fiscal 2015 same-store sales
The growth in TJX Companies' same-store sales slowed down in fiscal 2015, which ended on January 31, 2015. The company's same-store sales grew by 2.0% in fiscal 2015 compared to 3.0% in fiscal 2014.
Same-store sales grew across all segments. In the United States, Marmaxx and HomeGoods divisions posted growth of 1.0% and 7.0%, respectively. Both TJX Canada and TJX Europe posted a 3.0% growth in their fiscal 2015 same-store sales.
The company ended fiscal 2015 with 3,395 stores compared to 3,219 stores last year. TJX Companies makes up ~2.0% of the Consumer Discretionary Select Sector SPDR Fund (XLY).
Compared to its peers
Article continues below advertisement
Initiatives to improve same-store sales
TJX Companies has been implementing several initiatives to drive store traffic and increase same-store sales. The company adopted a multi-layered advertising approach to attract consumers through television, radio, and digital media. The company's long-term plan is to increase its store count to 5,475 stores.
The company is also growing its US and Canadian loyalty programs. Following the success of its North American non-credit Access loyalty card, the company is testing a non-credit loyalty program in the United Kingdom.
TJX Companies is also revamping its stores to enhance the shopping experience. TJX Companies plans to remodel ~225 stores across the company in 2015, including the new Marshalls prototype that will be introduced this year. The company's superior inventory management helps bring in merchandise that's in sync with the latest trends.