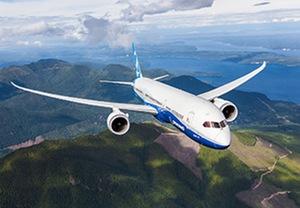 Is 2015 the Year for the 787 Dreamliner?
By Ally Schmidt

Updated
Dreamliner basics
Boeing's (BA) 787 Dreamliner is the first long-range mid-sized wide-body passenger jetliner made using lightweight carbon composites. Substantially lighter than aluminum, the carbon composite construction allows the 787 to be quieter, more fuel efficient, and more durable than its predecessors.
The Dreamliner also features state-of-the-art avionics and engines, as well as many passenger amenities. It is the company's biggest bet in the wide-body segment and was expected to lead the company ahead of its rival Airbus.
However, the Dreamliner project experienced multiple issues, including:
production delays
cost overruns
labor strikes
supply chain interruptions
technical glitches
engine failures
design-induced battery fire
fuel leakages
fire on an empty jet
high-altitude ice-crystal formation when flying near thunderstorms
These issues contributed to the Dreamliner's status as the company's most expensive project, with costs exceeding estimates by more than $1 billion.
Article continues below advertisement
2014 order status
The 787 Dreamliner saw very few sales in the first half of 2014. Boeing ended the year with 65 orders, which were cut back to 51 after cancellations. The major orders came from leasing companies such as Avolon, which ordered six Dreamliners; CIT Leasing, which ordered 12; and MG Aviation, which ordered two aircraft.
Boeing received a $3.6 billion order from Air Europa for a dozen 787-9 Dreamliners. Nippon Airways also ordered 14 aircraft to round out its fleet, and Boeing received several large orders for about 15 aircraft by other customers.
All of these orders, except for one in 2014, have been for the 787-9 jetliner. The 787-9 variant offers additional range and capacity for ~40 more passengers than the 787-8 variant, which saw one order earlier in the year.
A better year in 2015
Boeing expects its marquee Dreamliner project to turn cash positive in 2015, which seems more likely as Boeing took in new orders early in the year. The French Polynesian flag carrier Air Tahiti Nui confirmed an order for four Boeing 787-9 Dreamliners in a deal valued at $514 million.
Boeing also received orders for two more 787-9s for Air New Zealand, 14 Dreamliners 787-9s for Spain's Air Europa, and three 787-10s for Japan's ANA. Boeing plans to deliver more than 135 Dreamliners during 2015 and has delivered 19 in the first two months of the year.
BA competes with other aerospace companies like United Technologies (UTX), General Dynamics (GD), and Northrop Grumman (NOC). These companies make up 5.37%, 2.38%, and 1.83% of the Industrial Select Sector SPDR ETF (XLI), respectively.