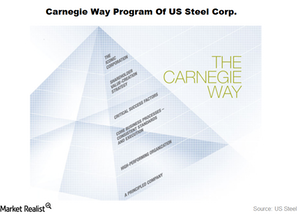 U.S. Steel's Carnegie Way: Key Points Investors Should Understand
U.S. Steel's Carnegie Way
U.S. Steel (X) posted losses for five consecutive years between 2008 and 2013. However, while U.S. Steel was taking losses over these years, its competitors like Nucor (NUE) and Steel Dynamics (STLD) were still making money. Currently, both NUE and STLD form ~3.7% of the SPDR S&P Metals and Mining ETF (XME). Schnitzer Steel Industries (SCHN) forms 1.2% of XME.
Article continues below advertisement
Underfunded pension plan
At the end of 2007, U.S. Steel's pension plan was overfunded by $223 million. But the scenario changed. By 2009, U.S. Steel's pension plan was underfunded by a whopping $1.7 billion. More than half of pension assets were invested in equities. With the crash in stock prices, the assets of U.S. Steel's pension fund also came down.
To add to these struggles, retiree medical and life insurance plans were also underfunded by $2.9 billion. Interestingly, for a brief period in 2009, U.S. Steel's market capitalization fell below its liability to retirees and life insurance plans. AK Steel (AKS) faced an even more precarious situation. Its market capitalization was even less than its pension obligation at one point.
Transformation begins
The story of how this transformation started is actually quite interesting. In March 2013, Mario Longhi, who is the current CEO of U.S. Steel, asked a simple question to a group of company managers. The question was, "Who will buy the U.S. Steel stock tomorrow?" Only a few managers reacted positively to this question. Since then, U.S Steel has embarked on an ambitious transformation plan, which it named "Carnegie Way." The chart above shows the key features of Carnegie Way.
In the next part of this series, we'll discuss some of the latest developments in U.S. Steel's transformation.