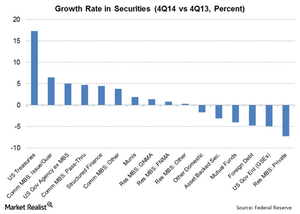 What are the recent trends in US Treasury holdings growth?
By Saul Perez

Updated
Security holdings grew a shade in 4Q14
The recent quarterly growth in securities holdings reveals some interesting trends. Overall, securities holdings stood at $3,218 billion. In absolute terms, this growth was $52.78 billion. In percentage terms, the growth rate was 1.67% in 4Q14 compared to 4Q13. A large part of this growth came from just one type of security.
Article continues below advertisement
US Treasury holdings grow at a high rate
US Treasury holdings growth has been huge in 4Q14 at $405.35 billion, an absolute increase of nearly $60 billion. The growth in percentage terms was at a very high 17.33% in 4Q14 compared to 4Q13. This growth comes at a time when the yield on US Treasuries has risen above the all-time lows.
US Treasuries make sense for banks
Holding US Treasuries makes sense for banks due to newer Basel-III norms, which require that banks hold safer securities and more capital. But, Treasuries also make economic sense for banks. The loan demand has not been robust. If banks park the excess cash with the Federal Reserve, they get about 0.25%. On the other hand, US Treasuries can net them a good spread.
Current yield on a 5-year US Treasury is 1.47%. So, banks can get a spread of 122 basis points by investing their excess cash in US Treasuries, which will provide a cushion if and when the Federal Reserve decides to raise rates.
US Treasury holdings can benefit all banks like Wells Fargo (WFC), Bank of America (BAC), JP Morgan (JPM), and US Bank (USB). All these banks are components of the Financial Select Sector SPDR (XLF), and they account for 24.52% of XLF's portfolio.