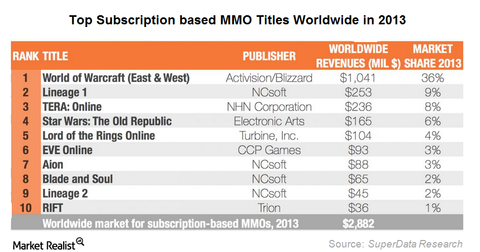 Electronic Arts makes history's fastest-growing subscription MMORPG
By Anne Shields

Updated
Bioware's MMORPG, Star Wars: The Old Republic
In the previous part of this series, we discussed how Bioware, an operating division of Electronic Arts (EA), made Disney's (DIS) Star Wars: The Old Republic. The game is commonly referred to as The Old Republic, SWTOR, or simply TOR. Conceived in 2005, it's a massively multiplayer online role-playing game (or MMORPG) that was a joint effort between BioWare Austin and LucasArts. The game cost approximately $200 million.
Article continues below advertisement
What is an MMORPG?
MMORPGs are video games that have fused the genres of role playing and massively multiplayer online games. Large numbers of players interact with one another within a virtual world and develop their characters in a role-playing environment. MMORPGs are highly popular, as they let players form alliances, interact within the game, customize their avatars, and partially create some of the game content.
SWTOR succeeded BioWare's previous Star Wars video games—the popular Star Wars: Knights of the Old Republic and its sequel, Star Wars: Knights of the Old Republic II: The Sith Lords. SWTOR was first announced on October 21, 2008, and released on December 20, 2011.
As the above chart shows, Activision (ATVI) leads the MMO market with 36% market share. It's followed by NCsoft and NHN, which held 9% and 8% market shares, respectively. EA's SWTOR stood at fourth position in 2013 in this space.
SWTOR is one of the fastest-growing MMORPGs
EA stated that over 1 million subscribers registered within the first three days of the The Old Republic's release, and over 1 million started playing The Old Republic by December 26, making it the fastest-growing subscription MMORPG in history.