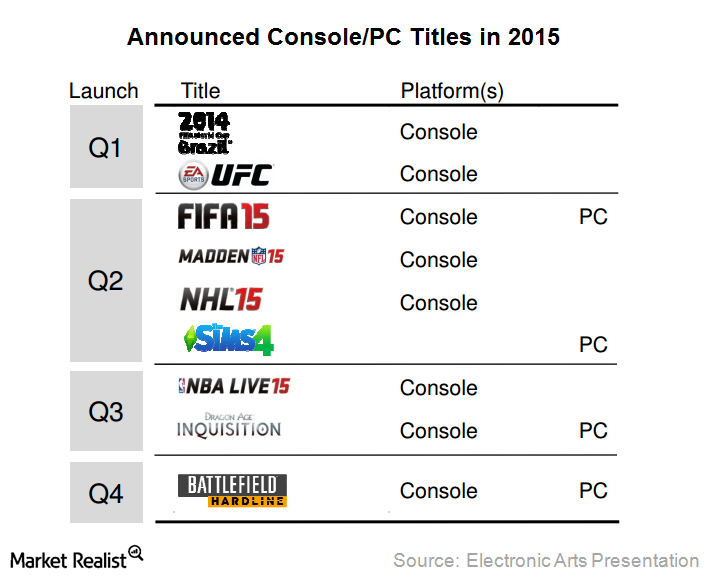 Electronic Arts Game Portfolio Includes Some Top Franchises
Success with a franchise
Sales of video games hinge a lot on their titles. So, publishers invest a great deal of time and money on titles that have the highest probability of success. Successful franchise titles are the foundation of game publisher companies like Electronic Arts (EA), Ubisoft, and Activision Blizzard (ATVI). Franchises are an integral platform for revenue and profit growth.
In this space, companies whose franchises have yet to make a mark spend considerably on marketing to raise customer awareness. Publishers sometimes risk going overboard financially, particularly if their ventures turn out to be a flop.
Article continues below advertisement
Article continues below advertisement
Established franchises have communities and forums that are known to enhance user experience, particularly for multi-player games in which Electronic Arts specializes. These communities create social networks that encourage users to keep playing a particular game. Networks enhance the depth and duration of customer engagement.
You might consider investing in the Sector SPDR Trust SBI Interest (XLK) to gain exposure to Electronic Arts. EA makes up about 0.47% of this ETF.
Diversified franchise portfolio
Electronic Arts' franchise portfolio includes some good revenue generators. In its earnings release, EA said that in 2014, it was the top publisher on Sony (SNE) PlayStation 4 and Microsoft (MSFT) Xbox One consoles around the world. This success was driven by the acceptance of Dragon Age: Inquisition, FIFA 15, NHL15, Madden NFL 15, EA SPORTS UFC, Titanfall, Battlefield 4, and FIFA 14.
On March 02, 2015, Visceral Games, an Electronic Arts studio, announced the release of Battlefield Hardline Premium.