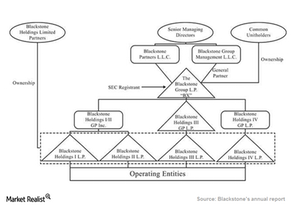 Understanding the Blackstone partnership structure
Partnership structure
The Blackstone Group (BX) raises funds and investment commitments using a partnership structure, also known as an investment vehicle. The investors in these partnership structures or funds are known as limited partners. The limited partners subscribe to these investment vehicles by committing the funds required. Commitments are drawn down whenever the company has to fund an investment over a specified term. Partners don't take part in the operation or control of Blackstone's investment funds.
Article continues below advertisement
Blackstone has all of its private equity and real estate funds, except for two real estate funds, in committed structured funds. The two real estate funds are structured like hedge funds, where all of the committed capital is funded immediately after the investor's subscription to the partnership structure.
Blackstone also manages eight credit investment funds, which are generally commitment structured funds or hedge fund structures, where the investor's or limited partner's capital is fully invested upon subscription.
Who manages investment funds?
The investment funds or partnership structure, separately managed accounts, and other structured vehicles are generally advised by a Blackstone entity that serves as an investment adviser.
A partnership structure or investment funds also have general partners that make investments and operational decisions relating to the conduct of the fund's business. General partners are typically the managing directors in a private equity firm. They make decisions related to making, monitoring, and disposing of investments. The general partners hold a stake in Blackstone through Blackstone Group Management LLC and Blackstone Partners LLC. They have the authority to act for the investment funds in terms of raising, deploying, and liquidating funds.
Capital contributed by general partners
General partners, to reflect their interest in management, commit capital to the investment funds. They typically don't commit more than 5% of the total commitments in an investment fund. Limited partners contribute at least 95% of the total commitments.
The general partners' strong network demonstrates the firm's investment managing capabilities.
Blackstone's partnership structure is similar to those at Carlyle Group (CG), KKR & Co. (KKR), Apollo Global Management (APO), and T. Rowe Price Group (TROW). TROW makes up 0.72% of the Financial Select Sector SPDR Fund (XLF).