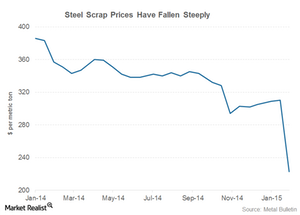 Steel Scrap Prices Have Fallen Sharply in 2015
Steel scrap prices
In the previous part of this series, we saw the movement in iron ore prices. However, Steel Dynamics (STLD) and Nucor (NUE) use steel scrap to produce steel. This is because they produce steel through electric arc furnaces (or EAFs).
U.S. Steel (X) mainly produces steel through traditional blast furnaces. However, it's also looking at producing steel through EAFs under its Carnegie way transformation. You can read more about US Steel's transformation in our series U.S. Steel takes steps in transformation. Currently, U.S. Steel forms 2.86% of the SPDR S&P Metals and Mining ETF (XME).
Article continues below advertisement
Scrap prices fall
The chart above shows the movement in steel scrap prices. As you can see, prices have corrected sharply this year. Steel scrap prices fell by ~20% in 2014 as well. Lower steel scrap prices should bring down unit production costs for steel plays. However, Steel Dynamics and Nucor have metal recycling operations as well.
Metal recycling operations
Steel Dynamics acquired OmniSource in 2010. OmniSource is one of the largest processors and distributors of scrap and secondary metals. Steel Dynamics fulfills almost half of its steel scrap requirements through OmniSource.
Nucor acquired the David J. Joseph Company in 2008. It engages in scrap metal brokerage, ferrous and nonferrous metal recycling, and transportation services.
Metal recycling operations are affected by lower scrap costs. Moreover, these companies hold higher-cost inventories.
AK Steel
AK Steel (AKS) produces steel through both electric arc furnaces and blast furnaces. It sources its steel scrap from third parties. It should benefit from lower scrap prices.
Another key metric that investors in steel plays should watch is the outlook of key end steel consumers. We'll discuss these in our next part.