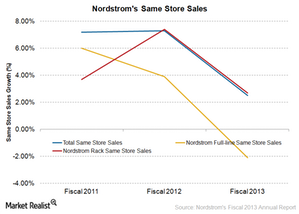 Nordstrom's target customers
High-end competitors
Nordstrom (JWN) is an upscale department store that competes with other high-end stores like Neiman Marcus; Saks Fifth Avenue; and Bloomingdale's, a subsidiary of Macy's (M).
Article continues below advertisement
Article continues below advertisement
Off-price competitors
Not all of Nordstrom's target customers are high-end shoppers. The company's Nordstrom Rack stores target middle-class consumers and compete with businesses like Ross Stores (ROST) and the TJX Companies (TJX). The popularity of Nordstrom Rack stores has been boosting the company's growth in recent years.
Nordstrom Rack stores belong to the off-price or outlets category, which offers clothing and accessories from major brands at a significant discount. These stores generally sell out-of-season products and overstocked merchandise.
The graph above shows Nordstrom Rack's superior performance in comparison to the company's full-line stores. Same-store sales reflect the sales of a retail chain's existing stores over a certain time period. This is an important metric for retailers. In fiscal 2013, Nordstrom's flagship full-line stores delivered same-store sales growth of -2.1% compared to Nordstrom Rack's 2.7% growth rate.
Along with some of its peers, Nordstrom is part of the SPDR S&P Retail ETF (XRT). This ETF had 6.33% holdings in department stores like Nordstrom as of February 11, 2015.
Millennials
Nordstrom is also attracting Millennials—consumers between the ages of 16 and 34. They are well-informed about the products that they buy and are one of the key drivers of the company's online business.
Nordstrom is catering to Millennials by bringing in famous brands like Topshop and by investing heavily in digital channels. E-commerce is Nordstrom's fastest-growing channel. The company expects Nordstrom Rack and online business to generate over 50% of revenues going forward.