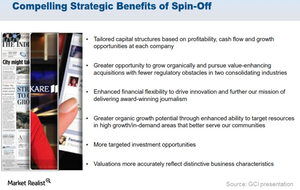 Gannett plans to split off into two publicly traded companies
Gannett's proposed split-off
In August last year, Gannett Company (GCI) announced that it plans to create two publicly traded companies. One company will focus exclusively on its broadcasting and digital businesses. The other company will focus on its publishing business.
The planned separation of the publishing business will be implemented through a tax-free distribution of Gannett's publishing assets to shareholders. The spin-off will be discussed in more detail later in this series.
Article continues below advertisement
Gannett will be almost debt free
Earlier in this series, we saw that Gannett (GCI) expects to split off its publishing business by the middle of this year. It said the move was aimed at "building scale, increasing cash flow, sharpening management focus, and strengthening all of its businesses to compete effectively in today's increasingly digital landscape."
It added that the acquisitions of Cars.com, Belo, and London Broadcasting bolstered its broadcasting and digital businesses. Combined with its initiatives "over the past two and a half years to strengthen Publishing business," this created an ideal scenario for a split.

After the separation, Gannett's broadcasting and digital company—which hasn't been named—will be headquartered in McLean, Virginia. Current Gannett CEO, Gracia C. Martore, will serve as the CEO of the broadcasting and digital company.
The publishing company will retain the Gannett name. It's expected to be listed for trading on the NYSE. It will also be headquartered in McLean, Virginia. Robert J. Dickey, who is the president of Gannett's US Community Publishing division, will become the CEO of the publishing company after the separation is complete.

Media companies have been shedding print operations
Last year, a number of media companies decided to separate slower growing print assets from their more profitable broadcast and digital units. Reports noted that Gannett could be emulating companies like Time Warner (TWX). Last year, Time Warner spun off Time (TIME). Tribune Media Company (TRCO) spun off Tribune Publishing (TPUB).
Last year, E.W. Scripps (SSP) and Journal Communications (JRN) also agreed to combine their broadcast operations and spin off their newspaper holdings into a separate company.