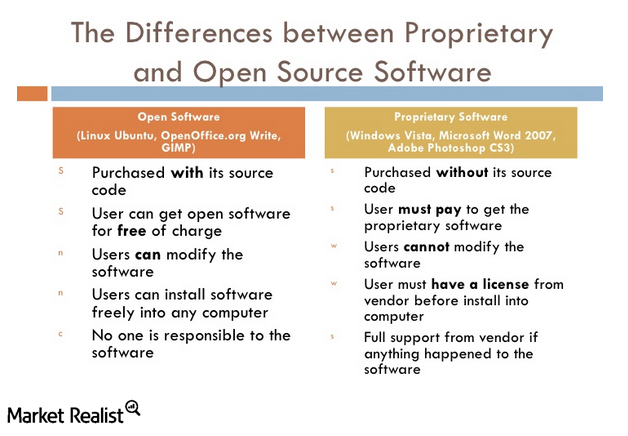 Microsoft embraces the open source software environment
<p>In the past, Microsoft (MSFT) has shown reluctance to support the open source software movement. However, it seems the company has changed its strategy. </p>
Microsoft has changed its strategy of not supporting open source software
In the past, Microsoft (MSFT) has shown reluctance to support the open source software movement. However, it seems the company has changed its strategy. With its Windows 10 announcement in January 2015, Microsoft made explicit references to the makers and developers who build hardware and software for everybody.
The above presentation highlights the differences between proprietary and open source software.
Article continues below advertisement
Article continues below advertisement
Investment in Cyanogen
In the earlier part of the series, we discussed the company's investment in Cyanogen, a company that is developing a free operating system comparable to Google's (GOOG) (GOOGL) Android. Microsoft hopes this move will strengthen its position in mobile space as well as weaken Android's dominance in mobile space.

According to Black Duck Management Webinar 2014, as the above presentation shows, open source software projects are expected to surge in 2015.
Strategic acquisition of Revolution Analytics
In early 2015, Microsoft acquired Revolution Analytics. Revolution Analytics provides free and enterprise versions of software that use the open source R statistical data analysis or modeling programming language. The company claims that R has turned out to be an essential tool for finance and analytics-driven companies such as Google, Facebook (FB), Twitter (TWTR), and LinkedIn (LNKD).