MeadWestvaco to spin off its specialty chemicals business
In January 2015, MeadWestvaco, announced that its board had approved the plan to spin off the specialty chemicals business from the rest of the company.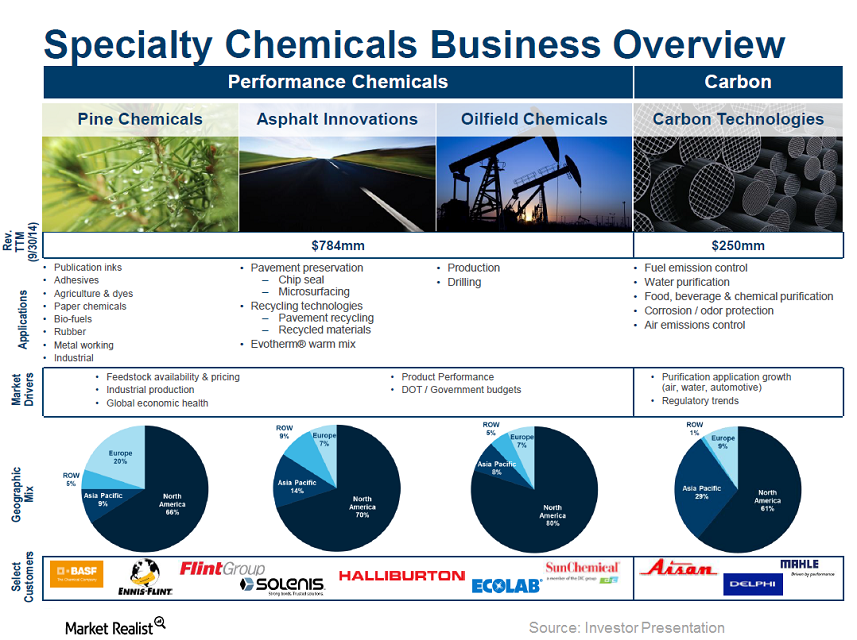 MeadWestvaco decides to unlock the value of its specialty chemicals business
Previously in this series, we discussed the full-year performance of MeadWestvaco (MWV).
On January 8, 2015, MeadWestvaco, or MWV, announced that its board had approved the plan to spin off the specialty chemicals business from the rest of the company. Spin-offs are corporate divestitures wherein the parent company separates a business division that it thinks would create better value independently.
Quite often in such transactions, shares of the newly created entity are delivered to the parent company shareholders in the form of stock dividends.
Before we switch gears and discuss the proposed spin-off, let's get some background on the specialty chemical business and what prompted Starboard Value to suggest a separation in June 2014.
Article continues below advertisement
Article continues below advertisement
Snapshot of the specialty chemicals business
MWV's specialty chemicals division manufactures chemicals derived from pine and wood-based activated carbon. These chemicals are used in printing inks, asphalt paving, adhesives, lubricants, emission control systems for vehicles, food and water production, and other industrial processes.
As mentioned in the last part of this series, this division contributes 18% of the company's total revenues. The business has grown steadily over the last five years at an annualized rate of 19.9% to $1.0 billion in 2014. And, the segment's operating profit margin has nearly doubled to 23.3% during the same period.
Sum of the parts greater than the whole
According to Starboard's assessment, the specialty chemical's business revenue growth and EBITDA (earnings before interest, taxes, depreciation, and amortization) margins were at the high end of what was seen in its peer group that includes Albemarle Corporation (ALB), Cabot Corporation (CBT), Calgon Carbon Corp. (CCC), Rockwood Holdings (ROC), and Westlake Chemical (WLK).
These tailwinds, specific to the specialty chemicals division's end user markets, are expected to be the major business drivers going forward:
emerging market infrastructure growth
increased oil and gas drilling activity
greater demand for activated carbon used in air and water purification
Even when the peer average EV/EBITDA (enterprise value/EBITDA) multiple of 11.4x is taken into account, the chemicals business value is estimated to be $3.2 billion. That's nearly 38% of the combined entity's current market capitalization of $8.46 billion. Obviously, when the cost synergies from the separation of the packaging business are considered, a spin-off would unlock substantial value for its shareholders.
Investors that want exposure to MeadWestvaco (MWV) and the basic materials sector can consider the Materials Select Sector SPDR ETF (XLB), of which MVW forms 1.51%.
In the next part, we'll discuss the proposed details of the spin-off and potential benefits that could come from it.