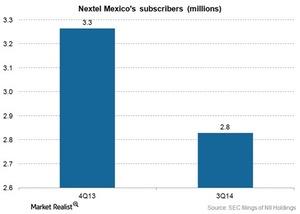 AT&T to acquire Iusacell and Nextel Mexico
Mobile broadband opportunity in Mexico
In the previous part of this series, we learned that AT&T (T) plans to focus on Mexico's telecom market. We also learned about the opportunities in the Mexican wireless market. These opportunities included potential new customer additions, as wireless penetration in Mexico was lower than 100% in 2013. However, the main opportunity in Mexico is for mobile broadband. The country had the lowest mobile broadband penetration among the OECD (Organization for Economic Co-operation and Development) countries during the same period.
Article continues below advertisement
Unlike Mexico, the US mobile broadband space is saturated. All four national carriers, AT&T, Verizon (VZ), Sprint (S), and T-Mobile (TMUS), have significant LTE (long-term evolution) deployments. Investors can get diversified exposure to Verizon and AT&T by investing in the Technology Select Sector SPDR ETF (XLK). The ETF held ~9.4% in these companies at the end of January 2015. Now we'll look at AT&T's two recent wireless acquisition deals in Mexico.
Iusacell transaction is complete
AT&T completed the $2.5 billion acquisition of Iusacell in January 2015. Iusacell is a wireless provider with 70% coverage in Mexico. AT&T signed the agreement in November 2014 with GSF for its wireless operations in Iusacell. This transaction helped AT&T gain access to over 8.6 million subscribers.
Proposed acquisition of Nextel Mexico
AT&T recently signed an agreement to acquire a stake in NII Holdings' Nextel Mexico, a wireless provider. NII Holdings is a Latin American wireless provider. The company had earlier filed for chapter 11 bankruptcy in September 2014. This is a ~$1.875 billion merger transaction, which will give AT&T a Mexican subscriber base of ~2.8 million. The deal will go through a review by the telecom regulator in Mexico, as well as the bankruptcy court in the US. AT&T expects that this sale will be completed by mid-2015.