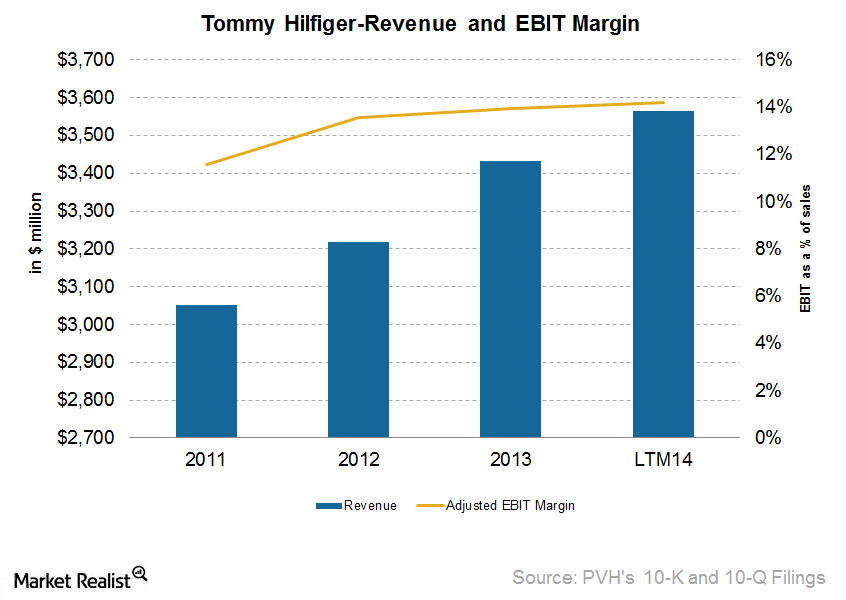 Assessing Tommy Hilfiger's business performance
Tommy Hilfiger and its competitors
PVH Corp. (PVH) gets ~44% of its revenue from Tommy Hilfiger's business division. It's the largest of all three of the reporting segments. Since the completion of the restructuring process, the business delivered operating margins of close to 14%. The operating margins are measured by EBIT (earnings before interest and tax)—adjusted for non-recurring items as a percentage of sales.
Tommy Hilfiger's EBIT margins are comparable to other retail companies like Ralph Lauren (RL) and Burberry Group (BURBY). Another company, Perry Ellis International (PERY), lags behind the group. Typically, it had an operating margin of 3%–6% over the last five-year period. This reflects decreased pricing power.
Article continues below advertisement
Solid results continue to drive the brand forward
For the nine-month period ending on November 2, 2014, Tommy Hilfiger posted a year-over-year, or YoY, revenue growth of 5% or $131 million. This was due to solid results from its North American and European operations. Revenue increased by 5% in North America. It was driven by wholesale growth, comparable retail stores' growth, and square footage expansion in company-operated stores.
International revenue also grew by 5% due to slight growth in European comparable store sales and square footage expansion.
In dollar value, the EBIT increased by $27 million YoY to $388 million in 9M14. As a percentage of sales, the EBIT increased by 30 basis points, or bps, over the same period to 14.6%. This trend was driven by a favorable pricing environment in North America and Europe combined with less promotional frenzy.
Plenty of opportunities
As we discussed earlier, Asia and Latin America practically operate on a license model. Converting these businesses to in-house operations could mean a $1 billion increase in sales. Also, due to the joint venture model in emerging markets and Australia, Tommy Hilfiger doesn't get to report sales or operating profits from these markets. Gaining control of the markets will be critical to drive the business forward. Also, these markets provide a direct path for future acquisitions.
ETF investors can consider the Consumer Discretionary SPDR ETF (XLY) if they want to add PVH to their portfolio. XLY has a portfolio weight of 0.42% for PVH. VF Corp. (VFC) has the largest allocation among luxury apparel companies in XLY. It represents 1.13% of the ETF.