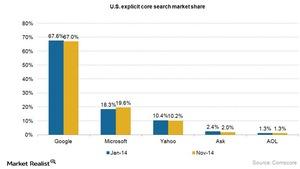 Yahoo's position in the search market
Yahoo's search market business
In the last part of this series, we discussed Yahoo's outlook for its 4Q14 earnings. We also discussed that Yahoo had better-than-expected third quarter earnings. This was good news for its investors.
In this part of the series, we'll look at Yahoo's search market business. In the third quarter, Yahoo (YHOO) generated 41% of its revenue from the search advertising business. It generated about 36% of its business from the display ad business. However, in 2Q14, the display ad business contributed 38% to the total revenue. Yahoo's search ad business did better than its display ad business. This is why the search ad business is Yahoo's most valuable business.
Article continues below advertisement
GAAP (generally accepted accounting principles) search revenue—excluding traffic acquisition costs, or ex-TAC—was up 6% year-over-year, or YoY. The number of paid clicks was flat. In contrast, the pay per click increased 17%. Yahoo's management mentioned that 3Q14 represented its 11th consecutive quarter of search revenue growth.
US search advertising market 
Although Yahoo managed to increase its search advertising revenue by 6% YoY, it's still losing its share in the US market. According to the latest report from comScore and as the above chart shows, Google (GOOGL) (GOOG) continues to dominate this market with 67% market share. Yahoo had 10.2% market share. Microsoft (MSFT) still holds the second position with 19.6% share. It's followed by the smaller players—Ask and AOL (AOL). They have 2% and 1.3% share, respectively. To learn more, read Bing could become a bigger threat to Google's supremacy.