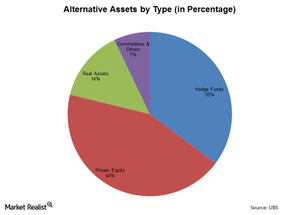 The relative share of the alternative asset management space
How big is the alternative asset management industry?
Alternative assets are a comparatively new class in the asset management space. They are like the newer vintage of passive investments. Despite this, alternative assets have grown stronger and stronger, and have become a major global contributor to the overall asset management industry.
Audited data available at the end of 2012 put the size of the industry at $6.4 trillion. In other terms, alternative assets account for about 10% of the total global asset management industry, which is valued at $63.9 trillion. Active asset management accounted for 79% of the industry in 2012, while passive asset management accounted for 11%.
The growth in alternatives has also been fast. The industry grew by more than 2.5 times in an eight-year span between 2004 and 2012.
Article continues below advertisement
Article continues below advertisement
Market share of various alternative assets
Out of $6.4 trillion in alternative assets, private equity contributes most, as you can see in the chart above. Private equity contributed $2.79 trillion in 2012, a share of 44%. Hedge funds are the second-largest at 35%, contributing $2.25 trillion to alternative assets. Real estate accounted for $901 billion, or roughly 14%. Commodities and other alternative assets accounted for the remaining 7%, or nearly $455 billion.
Largely alternative asset-focused managers such as the Blackstone Group (BX), Och-Ziff Capital Management Group (OZM), the Carlyle Group (CG), and Oaktree Capital Group (OAK) have grown on the strength of their ability to provide investors with different avenues.
The IQ Hedge Multi-Strategy Tracker ETF (QAI) is focused on replicating alternative investment strategies. Smaller investors that often don't have access to these strategies can benefit from investing in this type of ETF.